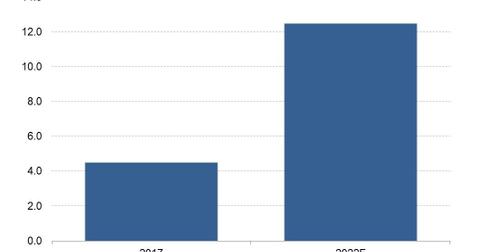 Google Is Opening a New AI Lab in Japan
By Neha Gupta

Updated
Google has opened several ASL facilities
Alphabet's (GOOGL) Google is launching its Advanced Solutions Lab (or ASL) in Japan, the company announced at its Cloud Next 2018 event in Tokyo recently.
ASL is an initiative that enables businesses to learn from Google experts to develop AI-powered solutions to solve business challenges. It involves companies sending their technical employees to ASL facilities to learn from Google's machine-learning experts. In addition to Japan, Google has opened ASL facilities in New York and Dublin, Ireland.
Article continues below advertisement
Japan's public cloud market is growing 22.9% every year
Initiatives such as ASL are viewed as part of Google's efforts to leverage its prowess in the AI space to drive the uptake of its cloud services.
The Japanese public cloud market is expected to expand at a rate of 22.9% each year over the next five years to reach $12.5 billion in 2022. Japan's public cloud market was worth $4.5 billion in 2017, according to IDC. Japan's private cloud market is growing at an even faster rate of 39% annually.
Google's cloud division grew 37.5%
Google doesn't break down its cloud revenue, but the division that houses its cloud business, along with other businesses such as hardware, saw revenue growth of 37.5% YoY (year-over-year) to $4.4 billion in the second quarter. The division's sales are reported as other revenues.
Amazon's (AMZN) cloud revenue rose 49% YoY to $6.1 billion in the second quarter, Microsoft's (MSFT) Azure cloud revenue rose 89% YoY, and IBM's (IBM) cloud revenue rose 20% YoY. Alibaba's (BABA) cloud revenue soared 93% YoY in the second quarter.