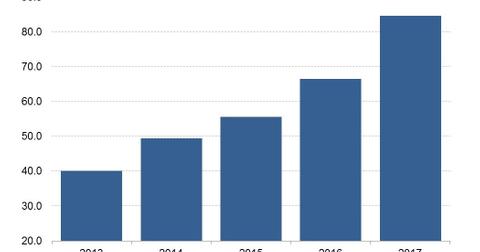 Google Is Buying Wind Energy for Its Finnish Data Center
By Neha Gupta

Sep. 14 2018, Updated 8:02 a.m. ET
A ten-year wind energy deal
Alphabet's (GOOGL) Google is buying more renewable energy in Europe. The company has entered a ten-year deal to buy 190 megawatts of renewable energy from wind farms that are under construction in Finland. Google intends to use the energy from the Finnish wind farms to power its data center in the country.
Google is one of several tech leaders making significant investments in renewable energy. Apple, Microsoft (MSFT), Amazon (AMZN), Facebook (FB), and Walmart (WMT) are also seeking greater use of renewable energy in their operations.
Article continues below advertisement
Curbing climate change
Investing in renewable power helps reduce the level of greenhouse gases released into the atmosphere. Google supports the Paris Climate Accord, which calls for countries to coordinate efforts to reduce greenhouse gas emissions. Google revealed a milestone in April, saying its renewable energy capacity matched its global energy consumption in 2017.
Controlling electricity expenses
In addition to curbing climate change, Google can seek economic benefits by investing in renewable energy. Because companies can enter renewable energy supply contracts at a fixed price over many years, renewable energy costs become more predictable. This allows companies to better manage their operating expenses.
Alphabet, Amazon, and Facebook incurred expenses of $84.7 billion, $20.5 billion, and $173.8 billion, respectively, last year. Microsoft's expenses were $67.3 billion in fiscal 2018, which ended in June. Walmart spent $106.5 billion in operating expenses in its fiscal 2018, which ended in January.