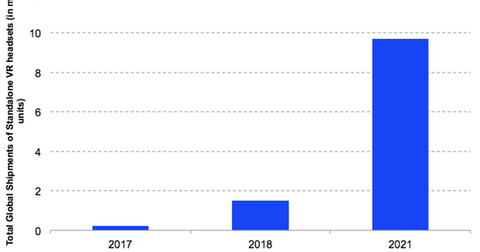 Facebook's Oculus Go Could Get a Robust Order Pipeline
By Sanmit Amin

Updated
AR/VR technology is slowly being embraced
AR/VR (augmented reality and virtual reality) is still in its early stages of development. But recently, there have been signs that companies are ready to embrace the technology.
Shopify (SHOP), a Canadian e-commerce company, recently added support for Apple's AR Quick Look, which went live with the iOS 12 launched recently. It could help shoppers gain an idea of how the product will look and feel.
Other than e-commerce, workplace training has been considered one of the areas where VR could make a mark.
Article continues below advertisement
Walmart could buy 17,000 Oculus Go headsets
Retail giant Walmart (WMT) announced on Thursday, September 20, that it will send four of Facebook's (FB) Oculus Go VR headsets to every Walmart Supercenter and two of them to all its neighborhood market and discount stores.
Walmart said that 17,0000 of the VR headsets will be in stores by the end of this year. It's expected to start sending the headsets to stores this month. Walmart is already acquainted with the technology in its 200 Academy training centers in partnership with VR company Strivr.
According to SuperData's estimates, Oculus sold 289,000 Oculus Go VR headsets in Q2 2018, a 40% sequential growth. An order of 17,000 headsets would give Oculus Go sales a good boost.