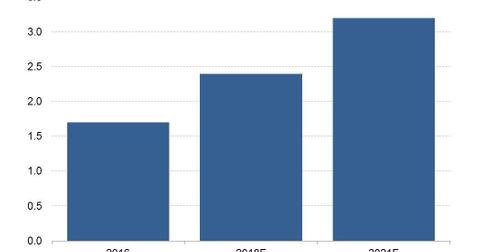 Facebook Faces a Challenge in Vietnam
By Neha Gupta

Updated
Facebook's concerns about its customers and workers
Vietnam has enacted a law that would require technology companies to store personal data on its citizens locally. These companies would also be required to set up local offices in the country if they are foreign companies. This law, which is expected to take effect in 2019, has met resistance from foreign companies like Facebook (FB).
Facebook and other foreign technology companies have expressed reservations regarding this law, fearing that it could make it easier for Vietnamese authorities to target political dissidents and expose their employees to the risk of arrest.
Article continues below advertisement
$3.2 billion market in Southeast Asia by 2021
Vietnam's new law poses a significant challenge to Facebook's future in Vietnam, where the company estimates it has ~60.0 million active users. Vietnam is also an important market for Facebook's advertising business.
Southeast Asia has a rapidly expanding digital advertising market. Spending on digital ads in Southeast Asia is expected to hit $3.2 billion in 2021, up from $1.7 billion in 2016, according to eMarketer data.
52.3% of revenues generated overseas
Facebook (FB) is increasingly relying on international markets for growth. The company's international operations comprised 52.3% of the company's total revenues in the second quarter.
Google parent Alphabet (GOOGL) generated 54.4% of its second-quarter revenues from its international markets. International operations accounted for 48.4% of Twitter's (TWTR) revenues in the second quarter. Snap (SNAP) generated 32.4% of its second-quarter revenues from overseas. Amazon (AMZN) looked to international markets for about 30.0% of its retail revenues in the second quarter.