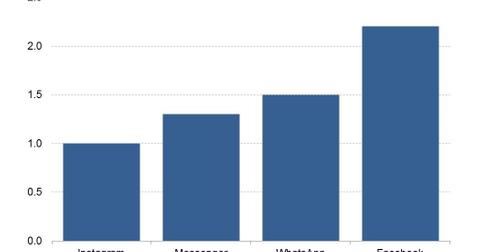 Facebook Expanding in Fast-Growing Asia Region
By Neha Gupta

Updated
Facility to start operating in 2022
Facebook (FB) is spending $1.0 billion to build its first data center in Asia, one of its fastest-growing regions. About 40.0% of Facebook's ~2.2 billion monthly users are located in Asia, which is up from less than 35.0% two years ago. Facebook has chosen Singapore as the location of its first Asian data center, which is slated to open in 2022.
Google is also expanding in Asia. The company is underway with the work to set up its third data center facility in Singapore, not far from Facebook's initial data center site in the country.
Article continues below advertisement
Meeting demand for computing needs
Facebook (FB) operates more than a dozen data centers, mostly in the United States and Europe. In addition to the Singapore project, Facebook is also building a data center facility in Denmark. 
The company is building more data centers to meet its growing computing needs. There are more than 6.0 billion users across Facebook's various digital platforms, as illustrated in the chart above. These users churn out a massive amount of data each day that Facebook needs to store and make accessible at the click of a mouse, which is facilitated by its data centers.
Facebook making capital investments
Opening data centers are part of Facebook's capital investments. The company's capital expenditures totaled $3.5 billion in the second quarter. Google parent Alphabet (GOOGL) had second-quarter capex of $5.5 billion, Baidu's (BIDU) capex totaled $227 million in the second quarter.
Twitter (TWTR) and Snap (SNAP) spent $194.0 million and $35.0 million, respectively, toward capital expenditures in the second quarter.