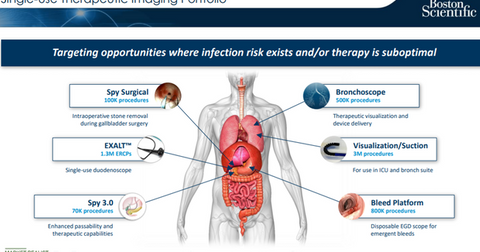 Endoscopy and Urology Businesses Expected to Drive Growth at BSX
By Margaret Patrick

Sep. 10 2018, Updated 2:45 p.m. ET
Endoscopy growth trends
In the second quarter, Boston Scientific's (BSX) endoscopy business reported revenue of close to $442 million, a YoY (year-over-year) rise of ~9%.
The company expects its endoscopy business to continue to be a major growth driver in the second half of 2018.
Boston Scientific expects its therapeutic imaging platform to increase the addressable market size for its endoscopy business from $3.0 billion in 2015 to $7.0 billion in 2021. The company is focused on the development of a broad therapeutic imaging portfolio, which will include single-use devices such as the Exalt-D duodenoscope, surgical scope, and upper GI scope. These devices are expected to reduce infections due to cross-contamination and improve physician efficiency and subsequently overall patient outcomes. Boston Scientific plans to launch the single-use Exalt-D duodenoscope by the end of 2019.
Article continues below advertisement
Further, the company continues to witness the robust uptake of its endoscopy products in new adjacencies such as pathology services in the ambulatory surgery setting and in infection prevention, with market sizes of ~$600 million and $425 million, respectively. Additionally, Boston Scientific has witnessed strong demand for endoscopy products such as the SpyGlass cholangioscope and the AXIOS stent.
Urology and pelvic health
In the second quarter, Boston Scientific's urology and pelvic health business reported revenue of close to $308 million, a YoY rise of ~9%. This growth is attributable to the double-digit growth witnessed by the company's kidney stone franchise, driven mainly by the increasing usage of the single-use ureteroscope, LithoVue. Boston Scientific's men's health franchise reported high single-digit YoY growth in the second quarter driven mainly by mid-teen YoY growth in the sales of prostate health products.
Rezūm, which is used to treat benign prostatic hyperplasia (or BPH), has emerged as a key growth driver for Boston Scientific in 2018. This minimally invasive therapy allows patients to be treated in a doctor's clinic or outpatient setting. Physicians have been increasingly preferring this therapy as they witness durable outcomes, which limit the need for reintervention. Rezūm is also benefiting from the recent guidelines from the American Urology Association in support of the use of minimally invasive therapies for treating BPH.
In the next article, we'll discuss Boston Scientific's electrophysiology business trends for the second half in greater detail.