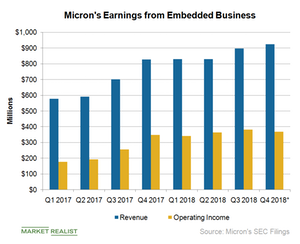 Embedded Tech: Micron's Future Growth Catalyst
By Puja Tayal

Updated
Micron's embedded business
Micron Technology (MU) has been focusing on the data economy. In the data economy, innovation is growing in the areas of IoT (Internet of Things) and AI at the edge.
IoT devices aren't just collecting data and sending the data to the cloud for processing. They're also doing some bit processing at the edge, which requires more DRAM (dynamic random-access memory) and NAND (negative-AND) content per device.
Micron could benefit not only from increasing memory content per device but also from an increasing number of devices.
Article continues below advertisement
Micron's EBU (embedded business unit) offers a micro SD card that can continuously record for three years at only 10% of the ownership costs of other products. The segment also offers the highest-speed LPDDR4 (low power double data rate) DRAM and the industry's first auto-grade GDDR6 (graphics double data rate) DRAM. Two of Micron's customers are NVIDIA (NVDA) and Intel (INTC), both of which are leading in the autonomous car market.
EBU earnings
As we can see in the graph above, Micron's EBU business is seasonally strong in the fiscal third and fourth quarters. In the fiscal third quarter, EBU's revenue rose 8% sequentially driven by the strong adoption of smart homes, drones, IoT, and industrial automation. The unit reported record sales in automotive memory.
Micron has secured a design win for its 64-layer 3D NAND surveillance-grade micro SD card. It estimates that a smart surveillance camera would require 16x more memory than a normal surveillance camera, as it would have to store some data and process the data at the edge.
The company is in the process of qualifying its 1X low-power DRAM and GDDR6 solutions for the automotive space. The automotive market is moving toward autonomous cars in five levels, with L5 (level five) being a fully autonomous car. Micron estimates that L3 cars could have 2x more DRAM and 31x more NAND than L1 and L2 cars, and L5 cars could have 4x more memory than L3 cars. For this reason, EBU could be Micron's future growth catalyst.