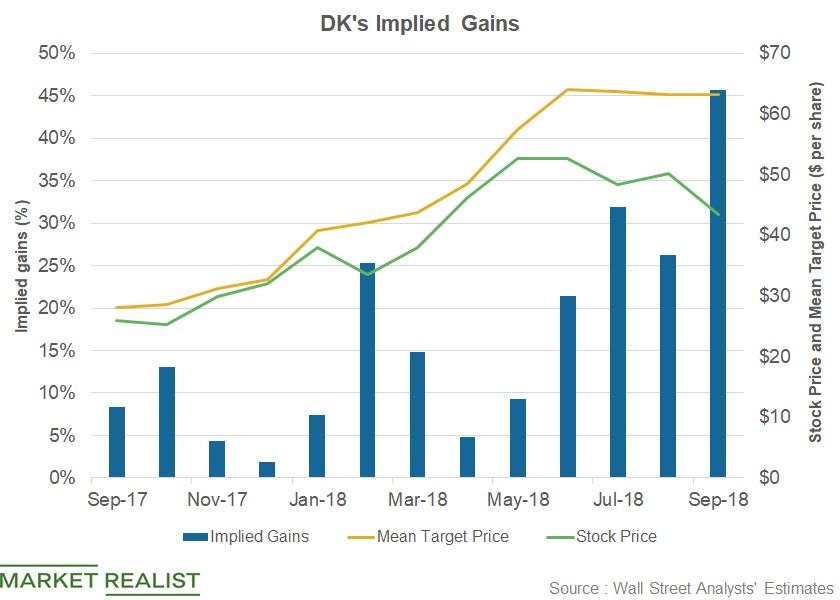 Delek Tops: Highest Implied Gain, Largest Growth, Lower Valuation
DK's implied gain
In this series, we're ranking refining stocks based on their implied gains. We're considering Wall Street analysts' mean target prices to estimate these implied gains.
In this article, we'll review the stock that's expected to post the highest gain: Delek US Holdings (DK).
DK is an American refiner in the refining and logistics segment. Among the seven refiners under discussion, DK ranks first, with a 46% implied gain based on Wall Street analysts' target price. Its implied gains have been strengthening in the past couple of quarters due to its improving financials. The stock has risen 67% in the past year. Analysts' mean target price on Delek stock has risen 125% in the same period.
Article continues below advertisement
DK's earnings growth, valuation, and dividend yield
Delek is at a pivotal point marking the beginning of its growth journey in the current year. The company has consistently faced losses in the past several quarters (except for the third and fourth quarters of 2017). However, Delek saw an adjusted income of $89 million in the second quarter compared to its adjusted income of -$25 million in the second quarter of 2017. DK's adjusted EPS surpassed Wall Street analysts' expectation by 16% in the second quarter.
Wall Street analysts expect DK's EPS to rise 385% to $5.4 in 2018. In the first half of 2018, DK's adjusted EPS stood at $1.3. DK is trading at a forward PE of 5.8x, below the peer average of 10.8x.
Further, in terms of shareholder returns, in the first half of 2018, Delek returned $153 million to its shareholders via dividends and share repurchases. Also, in the third quarter, DK announced that it would repurchase shares worth $100 million. DK's current dividend yield stands at 2.3%, below the peer average of 2.4%.
Overall, Delek has the highest implied gain, the highest growth expectation for 2018, below-average valuations, and rising shareholder returns.