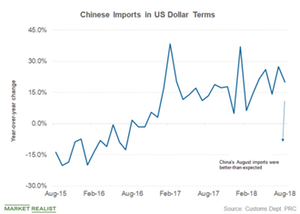 Could China Disrupt US Supply Chains in Retaliation?
By Anuradha Garg

Sep. 17 2018, Updated 1:50 p.m. ET
More aggressive approach
Amid the US-China (MCHI) trade tension, investors should note that bilateral trade between the countries is lopsided—China imports far fewer goods from the United States than it exports. Therefore, China will likely not be able to retaliate dollar-for-dollar to tariffs on $200 billion in Chinese goods. However, it may explore other ways to respond.
Article continues below advertisement
Possible options
While devaluing the Chinese yuan is one option, China seems unwilling to do so. Although currency devaluation helps exports, foreign investment sentiment could be impacted due to currency instability. Instead, China might target US companies operating in China, delaying customs clearance and making inspections and bureaucratic procedures more complicated.
Disrupting US supply chains
One strategy China could opt for would be restricting exports of essential raw materials and goods vital for US (SPY) (DIA) manufacturing supply chains, which could hit the United States hard. According to Reuters, JPMorgan Chase analysts wrote, "Further escalation looks very likely in which the rate will likely be raised to 25 percent and more U.S. tariffs threatened, while China may potentially pull out of trade talks entirely and escalate on the new front of outright export restrictions." They added that "this would of course only inflame the situation further."
If China goes ahead with these export restrictions, US tech stocks (QQQ) (SMH) could be among the worst affected. Seven major US tech companies source more than half of their products from China. Four top US tech companies (XLK) have lobbied to be excluded from the next round of tariffs. Dell (DVMT), Cisco Systems (CSCO), HP (HPQ), and Juniper Networks (JNPR) have warned that tariffs would increase component costs, which could lead to job losses.