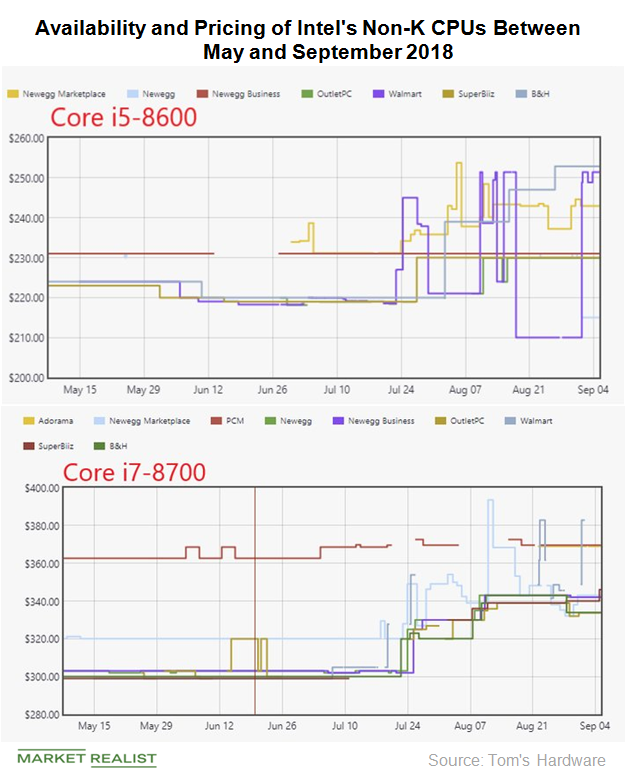 Capacity Constraints at Intel—An Ideal Environment for AMD
By Puja Tayal

Nov. 20 2020, Updated 5:14 p.m. ET
Market environment favors AMD
So far in this series, we've noted that Intel (INTC) is facing supply constraints. Intel is a leader in the PC and server CPU (central processing unit) market with a 90.0% share. These supply constraints post a challenge—demand is increasing rapidly as PC vendors prepare for the holiday season. 
The CPU market is a duopoly market in which the only other player aside from Intel is Advanced Micro Devices (AMD). In such a scenario, one's loss is the other's gain.
Article continues below advertisement
According to a September 21 CNBC report, Jefferies analyst Mark Lipacis cited a Fubon Research report that stated that Intel would undersupply PC CPUs between the fourth quarter and the second quarter of 2019. This shortage is expected to increase by 15.0%. This supply shortage is expected to have the greatest impact on the high-end PC MPU (mobile processing unit).
Intel's capacity constraints come at a time when demand is high and AMD's products have gained consumer confidence. This is the best scenario for AMD to improve its margins and gain market share in the high-end PC and server CPU space.
AMD's product execution
AMD identified this window of opportunity and released two new Ryzen CPUs—Ryzen 5 2600H and Ryzen 7 2800H—for high-end laptops. These processors would compete with Intel's H series processors. However, AMD didn't state when laptops powered by the Ryzen H series could hit the market.
Not only is AMD launching competitive products to give customers an alternative, but it's also set to overtake Intel in terms of technology. Intel has delayed its 10nm (nanometer) processor until the 2019 holiday season. In contrast, AMD is set to launch its 7nm Vega server GPU (graphics processing unit) by the end of 2018 and its 7nm EPYC server CPU in the first half of 2019.
According to a September 20 CNBC report, Stifel analyst Kevin Cassidy stated that capacity constraints and the lack of a "competitive response" from Intel could give AMD an opportunity to gain CPU market share. In the next article, we'll see how this opportunity could benefit AMD's investors.
Check out all the data we have added to our quote pages. Now you can get a valuation snapshot, earnings and revenue estimates, and historical data as well as dividend info. Take a look!