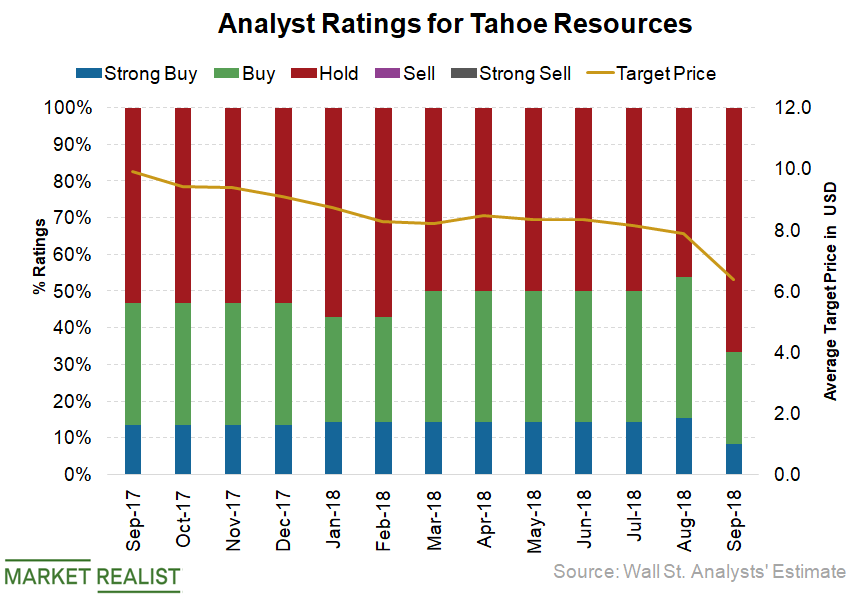 Can Tahoe Resources Regain Analysts' Lost Favor?
Tahoe Resources
YTD (year-to-date), Tahoe Resources (TAHO) has had the worst performance of all silver miners with losses of 44%. Among the silver miners we are covering in this series, Tahoe has the lowest percentage of "buy" ratings. Currently, only 31% of analysts covering TAHO rate it a "buy."
The company's stock quickly sank after the government of Guatemala decided to revoke Tahoe Resources' permit to operate its Escobal mine on July 5, 2017. It cited the company's lack of consultation with indigenous communities before starting the mine as the major reason for the suspension of its license. The suspension of its license led the stock to underperform significantly in 2017. These issues are still ongoing, and the legal battle is expected to be resolved by the end of 2018 or in early 2019.
Article continues below advertisement
Revenue and earnings estimates
Analysts expect Tahoe Resources' revenue to decline 25% YoY (year-over-year) in 2018 to $550 million. However, analysts are likely factoring in a favorable resolution to its license woes in Guatemala as well as other successful ramp-ups. They expect a 42% rise in the company's revenue in 2019.
TAHO's consensus EBITDA estimate for 2018 is $153 million, implying a margin of 27.9%, which is expected to widen to 38.0% in 2019 and to 44.6% in 2020. Its margins have consistently been wider than its peers (SIL) (GDXJ) Pan American Silver (PAAS), Coeur Mining (CDE), and Silver Standard Resources (SSRI). However, 2017 was an exception.