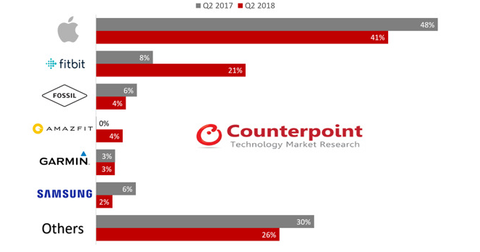 Can Smartwatches Remain Popular for Fitbit?
By Adam Rogers

Updated
Smartwatches accounted for 55% of Fitbit's revenue
Fitbit's (FIT) revenue in the second quarter declined 15% year-over-year to $299 million. Smartwatch revenue in the quarter accounted for 55% of total revenue, up from 30% in the first quarter. That significant rise was driven by robust Fitbit Versa sales.
In the previous part of this series, we saw that Fitbit's share in the smartwatch segment rose from 8% in Q2 2017 to 21% in Q2 2018. Fitbit also has the Fitbit Versa and Fitbit Ionic, which are among the top five most popular smartwatches globally.
Article continues below advertisement
Trackers integral to revenue growth
During Fitbit's earnings call, its CEO James Park said smartwatch sales are growing and will provide a good opportunity for more growth. He believes there are many people who still like trackers and are interested in health and fitness devices at reasonable prices.
That trend is evident from the 50% rise in Alta HR devices sold during Amazon Prime Day 2018 (AMZN) compared to last year. Fitbit is banking on the Charge 3 to drive sales in the second half of 2018. The Charge franchise has already sold 35 million devices, and Charge 2 has sold 15 million devices in the last two years.
Market research firm IDC (International Data Corporation) expects tracker sales to reach 46 million units in 2018 compared to 43 million smartwatch units. Fitbit aims to target this large user base and is banking on both the Versa and Charge 3 to drive sales in the 2018 holiday season.