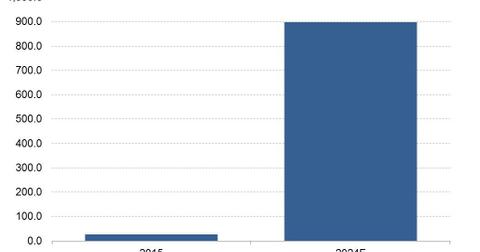 Can LendingClub Seize the Opportunity Ahead?
By Neha Gupta

Sep. 17 2018, Updated 6:32 a.m. ET
Market expanding more than 48% annually
LendingClub (LC) is a leader in the P2P (peer-to-peer) lending market, meaning that it's well-positioned to capitalize on the strong demand for P2P loans.
The global P2P lending market is expanding at a rate of 48.2% annually and is on track to hit $897.9 billion by 2024, according to Transparency Market Research. The market was valued at $26.2 billion in 2015.
LendingClub operates an online platform that brings borrowers and lenders together. The platform serves over 2.5 million customers and has facilitated over $38 billion in loans. People come to LendingClub for a variety of loans, including personal and business loans.
Article continues below advertisement
LC reported record revenue in the latest quarter
The company makes money by charging borrowers a loan origination fee that's calculated as a percentage of the loan amount. It also makes money from lenders by charging them a service fee. LendingClub reported record net revenue of $177 million in the second quarter. Revenue rose 27% YoY (year-over-year) to $164 million and topped the consensus estimate.
OnDeck Capital (ONDK), an online lender focused on facilitating small business loans, grew its net revenue 18.5% YoY in the second quarter. It made a profit of $5.8 million in the quarter.
Write-downs drove up losses at LendingClub
LendingClub is losing money. The company's second-quarter net income fell to -$60.9 million from $25.5 million a year earlier. The larger loss in the quarter was the result of a $36.5 million goodwill impairment linked to LendingClub's patient and education finance unit.
PayPal (PYPL) and Amazon (AMZN), the other companies that do online lending, reported second-quarter profits of $526 million $2.5 billion, respectively. Square (SQ) reported a loss of $6.0 million in the second quarter, down from a $16 million loss a year ago.