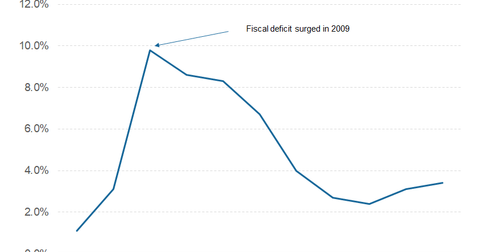 Can Central Banks and Governments Contain the Next Recession?
By Mohit Oberoi, CFA

Updated
Central banks
It has been a decade since the collapse of Lehman Brothers. Back then, we saw almost synchronized global action as the contagion from the US subprime crisis spread to the entire world (ACWI). While governments loosened their purse strings, central banks also took a dovish approach by lowering interest rates and using other monetary policy tools.
Article continues below advertisement
Fiscal tools
Fast forward to 2018, the tools available for central banks and governments look limited. The US's fiscal deficit as a percentage of GDP was 3.4% in fiscal 2017 as compared to 1.1% in fiscal 2007. The deficit is expected to rise further this year because of tax cuts. US interest rates were 5.25% at the beginning of 2007. Currently, the rates stand at 2.0%. Meanwhile, while in 2007, the US Federal Reserve had started lowering rates, it's embarking on rate hikes currently. Rising US interest rates could hurt demand for automobiles (F) and housing. Gold (GLD) has also come under pressure this year amid rising US interest rates (SPY) and a stronger US dollar (UUP).
Global perspectives
The story is no different globally. Most governments are running fiscal deficits that are higher than they were in 2007. As for the monetary policy, although US interest rates have started to rise, it's still pretty much easy money in some other regions. Simply put, governments, as well as central banks, might find their hands tied if a no-holds-barred trade war leads us to the next recession.