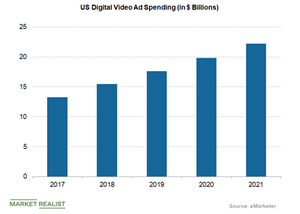 Can Amazon's Ad Business Threaten Facebook and Google?
By Sophia Nicholson

Updated
Amazon's growing ad revenue
According to market research company eMarketer, Amazon (AMZN) is focusing on its digital advertising business, as the market for US digital video ad spending is expected to exceed $22 billion by 2021, up from $13.2 billion in 2017. Earlier, the company had expected Amazon to deliver digital ad revenue of only $2.89 billion in 2018. However, it now expects Amazon's ad revenue to more than double to $4.61 billion this year.
Amazon has become the third-largest digital advertiser in the United States after Alphabet's (GOOGL) Google and social media giant Facebook (FB). Amazon has pushed ahead of Verizon's (VZ) Oath and Microsoft (MSFT) in this space, according to eMarketer's rankings.
Article continues below advertisement
Slowing growth at Facebook and Google
Google and Facebook remain the top players in the digital ad market. However, the market shares of these companies have fallen from 59.1% in 2017 to 57.7% in 2018. Currently, Google and Facebook make up 37.1% and 20.6% of the total US digital ad market, respectively, while Amazon's market share is ~4.15%. By 2020, Amazon is anticipated to grab a 7.0% share of US digital ad spending compared to Facebook's 20.8% and Google's 35.1%, according to eMarketer's forecast model.
Amazon's ad business is growing at a rapid pace, as a large number of people have started their online product searches on Amazon rather than Google. The company's ad revenue further got a boost owing to an accounting change under which Amazon's ad revenue will now be classified as revenue rather than the cost of sales.
In the second quarter, Amazon's ad business grew 129% year-over-year to $2.19 billion. This was the company's second straight quarter of surpassing $2 billion in advertising revenue. As per eMarketer estimates, Amazon's ad revenue is expected to climb 10%–12% in 2018 driven by strong organic growth.