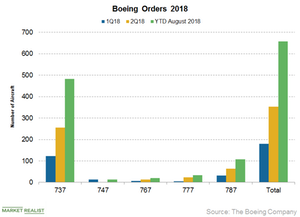 Boeing Reports Strong Orders in the First Half of 2018
By Ally Schmidt

Updated
Boeing surpasses Airbus orders
For the past few years, Boeing (BA) has been behind Airbus in the order booking race. However, Boeing seems set on breaking that record in 2018.
In the first half of 2018, Boeing booked 460 net firm aircraft orders and 534 gross orders. 154 of the net orders came in June alone. Most of Boeing's orders were for the narrow body 737 family.
In Q1 2018, Boeing booked 122 orders for the 737 series. It improved upon that feat by booking another 255 orders for 737 in Q2 2018. 150 of the 255 aircraft orders came from a single customer, India's Jet Airways. Southwest Airlines (LUV) has also placed an order for 40 of the 737 Max aircraft.
Article continues below advertisement
The firm's 787 Dreamliner orders are also increasing. For Q1 2018, the firm booked 32 Dreamliner orders, followed by another 63 orders in Q2 2018. American Airlines (AAL) has placed an order for 25 of these, while United Continental (UAL) has placed an order for four. The remaining orders were filled up by Boeing's wide-body aircraft, a few of which were ordered by freighter FedEx Express (FDX).
Airbus falling behind
Airbus, on the other hand, booked just 261 gross orders, most of which came in June. Cancellations then led to a net order of just 206 aircraft for the first half of 2018, less than half of Boeing's.
Airbus also booked only 111 net aircraft orders in the first five months of 2018 and booked another 95 aircraft orders in June, almost doubling its order total for the year. Most of Airbus's orders were for the wide-body A320 family.
Investors can get exposure to Boeing through the SPDR Dow Jones Industrial Average ETF (DIA), which holds ~9.0% of its portfolio in BA.