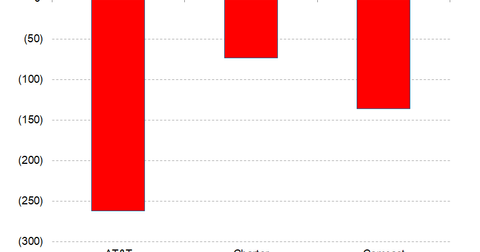 AT&T Isn't Distressed about the DOJ's Appeal of Time Warner Deal
By Ambrish Shah

Updated
DOJ appeals AT&T–Time Warner deal
The United States Department of Justice (or DOJ) has appealed Judge Richard Leon's decision to allow AT&T's (T) $85.4 billion acquisition of Time Warner, raising the possibility that the deal could be blocked. The appeal came after the companies closed the merger deal on June 14 after winning a six-week court trial. The DOJ had objected to the deal on the grounds that it would hurt consumers with higher costs and reduced competition in the pay-TV space.
Article continues below advertisement
During the Goldman Sachs Communacopia Conference held on September 12, Randall Stephenson, AT&T's chief executive officer, stated that the company isn't distressed about the DOJ's appeal of Time Warner merger deal. Stephenson noted, "The teams are spending 0 effort thinking about this appeal." He added, "But that appeal is going to be fought in the courts. I'm spending hardly any time at all on this."
Instead, AT&T is focusing on integrating the assets the company has acquired, which includes HBO and CNN. AT&T expects to file its brief by September 20, and the appeal doesn't have any impact on the acquisition for now.
The DOJ is concerned that the acquisition could give AT&T the power to suppress competition, as it would be the owner of premium content as well as a top distributor of pay-TV services. However, AT&T argued that users are migrating from higher-priced traditional satellite or cable connections to more flexible and modestly priced over-the-top video streaming services.
Cord-cutting is denting the pay-TV subscriber base