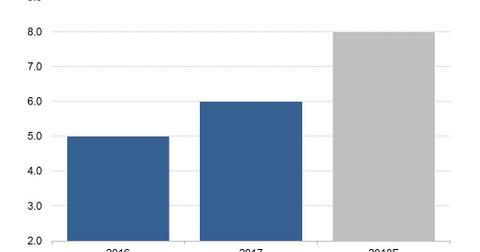 Are Netflix's Priorities Shifting?
By Neha Gupta

Updated
Pursuing profit and growth with equal intensity
Over the years, Netflix's (NFLX) emphasis has been on driving subscriber growth. However, the company may be shifting from putting growth before profit to pursuing profit and growth with the same intensity.
Netflix is testing a direct payment method that doesn't rely on Apple's in-app billing platform. This test could help the company eliminate some transaction costs and make its business more profitable.
Article continues below advertisement
Apple takes 15% of Netflix's in-app sales
Apple's billing system makes subscribing to Netflix simpler and may encourage people to pick up the service. However, Apple takes 15.0% of the in-app sales made through its platform. Exiting Apple's billing platform or reducing its use of the platform could help Netflix increase its profit margin on customers using Apple devices.
Costs drove eBay from PayPal
eBay (EBAY) announced in February that it planned to drop PayPal (PYPL) as its main payment processor. The company cited a need to cut costs and potentially boost its profitability as part of the reason driving it to make the change.
Netflix may be seeking to transition to direct billing for its Apple mobile customers for the same reason that eBay is dropping PayPal.
Netflix to spend up to $8.0 billion on content
Netflix is expected to spend as much as $8.0 billion on content in 2018, an increase from ~$6.0 billion in 2017. With these soaring content costs, there's a need for Netflix to find ways to finance its content budget without borrowing too much.
Netflix was $8.4 billion in debt at the end of the second quarter. Perhaps bypassing Apple's 15.0% in-app sales fee could help Netflix garner more revenues from its streaming video business.
Facebook (FB) recently launched its Watch video service globally. AT&T (T) launched a lower-cost online television service called WatchTV, putting more competitive pressure on Netflix to continue investing in compelling content.