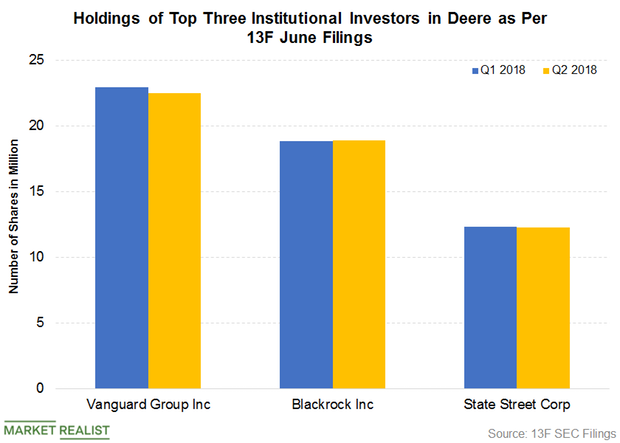 Are Institutional Investors Buying or Selling Deere?
By Peter Neil

Sep. 26 2018, Updated 9:03 a.m. ET
Institutional activities
The 13F filings from June 30 indicate that institutional investors own ~67.1% of Deere's (DE) outstanding shares. At the end of DE's fiscal third quarter, DE had 328 million outstanding shares, and 220.2 million of them were held by institutions. Of the 1,282 institutional investors that held DE, 504 increased their positions, 538 reduced their positions, and 240 maintained their positions. Overall, the institutional investors remained net buyers as per the 13F filings by institutional investors.
Article continues below advertisement
Top three holders
The top three institutional investors in DE hold ~16.34% of DE's outstanding shares. These three investors were net sellers and decreased their total position from 54.08 million shares in Q1 2018 to 53.6 million shares in Q2 2018. Based on the 13F filings, the top three institutional investors are as follows:
Vanguard reduced its position in DE by ~0.47 million shares. Its current holdings represent ~6.85% of DE's outstanding shares.
BlackRock (BLK) increased its position in DE marginally. The firm bought ~24,000 shares and now holds a total of ~18.88 million shares. Its holdings represent 5.75% of DE's outstanding shares.
State Street (STT) has decreased its position in DE. Its position represents 3.7% of DE's outstanding shares.
Investors can invest indirectly in Deere by investing in the Agribusiness ETF (MOO), which invests 7.5% of its portfolio in DE. The fund also provides exposure to FMC (FMC) at a weight of 2.7% as of September 24.