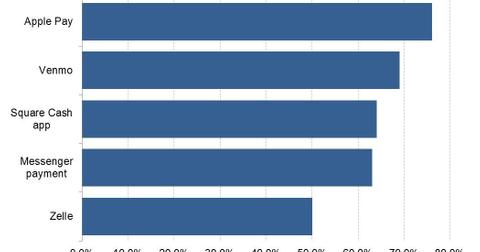 Apple Pay Kicks Off September with a Crown
By Ruchi Gupta

Updated
Apple Pay outperforms competitors
Apple (AAPL) has entered September, the final month of the third quarter, with strength courtesy of its mobile payment service, Apple Pay. In its first-ever rating of mobile peer-to-peer payment services, Consumer Reports ranked Apple Pay ahead of its competition in a report published last month.
Assessed on features such as payment authentication, data security, and data privacy, Apple Pay received a score of 76%. PayPal's (PYPL) Venmo scored 69%, Square's (SQ) Cash app scored 64%, and Facebook's (FB) Messenger payment service scored 63%. Wall Street bank-backed mobile payment service Zelle ranked fifth with a score of 50%.
Article continues below advertisement
Apple Pay Cash is younger than the competition
The report specifically rated Apple Pay Cash, the part of the Apple Pay platform that specializes in peer-to-peer payments. While flagship Apple Pay has been around since 2014, Apple Pay Cash was rolled out just last December, making it younger than many of its competitors, including Venmo.
Google's Tez now extending loans
In the months since it launched, Apple Pay Cash has seen new competitors rise as others have fizzled. SoftBank has teamed up with Paytm to launch a digital payment service in Japan, and Google (GOOGL) has expanded its Tez payment service to include lending. Google has recently taken Tez outside India, rebranding it as Google Pay, and Snap (SNAP) has bowed out of the peer-to-peer payment market, shutting down its Snapcash payment service.