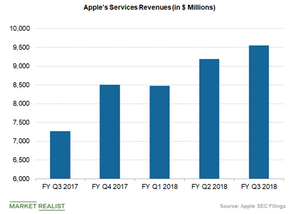 Apple Bans Alex Jones's Infowars from App Store
By Sophia Nicholson

Sep. 12 2018, Updated 11:05 a.m. ET
Apple removed Jones' Infowars
Article continues below advertisement
Alex Jones banned by other tech giants
Alex Jones's abusive behavior led the social media players to ban him and his website. Over the past few months, tech players like Facebook (FB), Alphabet's (GOOGL) YouTube, and Spotify (SPOT) have blocked Jones and Infowars on their platforms.
Last month, Twitter had blocked Alex Jones and his website for seven days for posting a violence-provoking video and thereby violating the company's anti-abuse rules. However, most recently, Twitter has permanently banned Jones and his Infowars show for posting objectionable content on the platform. Jones had about 900,000 followers on Twitter, while Infowars had nearly 430,000 followers.
Tech players under scrutiny
As the 2018 US mid-term elections approach, lawmakers are concerned and are thus pressuring social media companies like Facebook and Twitter to become more transparent in content filtering and to curb the spread of illegal and fake news content like fraud, cyber-crime, piracy, and sex trafficking. Twitter CEO Jack Dorsey and Facebook COO Sheryl Sandberg have testified in front of Congress and report that their companies are taking measures to curb the proliferation of fake news.
Services segment doing well
Apple's Services segment has been doing very well recently. The division, which includes the App Store, Apple Care, Apple Music, and Apple Pay among others, has generated substantial revenues for Apple. In the third quarter, the Services segment's revenues surged 31% year-over-year (or YoY) to $9.5 billion backed by increased paid subscribers through the App Store, a YoY increase in cloud revenue, and higher Apple Pay usage rates.