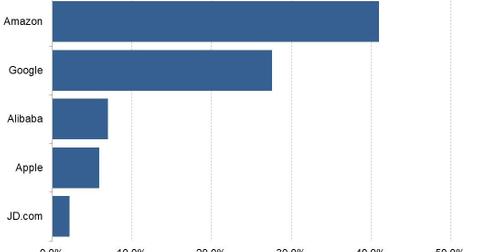 Amazon: Turning Alexa into a $10 Billion Business
By Ruchi Gupta

Updated
Amazon refreshed Echo product line
A prediction issued last year by RBC Capital Markets said the Alexa digital voice agent could bring $10 billion in revenues for Amazon by 2020. If Amazon's annual hardware event held earlier this month in Seattle is anything to go by, the company appears to believe that Alexa has the potential to be a multibillion-dollar business.
Alexa is the artificial intelligence technology that powers Amazon's Echo brand of smart speakers, enabling people to operate the speakers using spoken commands.
Amazon recently unveiled a host of new Alexa-powered devices, broadening the selection for consumers. The new Alexa-powered devices include Echo Auto, a smart speaker specifically designed for the car, which lets drivers pull up information about direction and much more.
Article continues below advertisement
Alexa enters microwave
Amazon has also brought Alexa power to its AmazonBasics microwave device. That means households can reorder kitchen supplies by simply speaking to the microwave.
Alexa is also expected to help drive the uptake of Amazon's cloud services. For example, developers creating Alexa skills may want to work on the Amazon cloud.
Battling smart speaker competition
Amazon (AMZN) has recently been shown to be losing market share in the global smart speaker market. In the second quarter, Strategy Analytics said Amazon's share of the global smart speaker market narrowed to 41% from 75.8% a year earlier. Google's (GOOGL) market share grew to 27.6% from 16.1% in the same period a year earlier. Alibaba (BABA), Apple, and JD.com (JD) captured 7%, 5.9%, and 22%, respectively, of the global smart speaker market in the second quarter. All of them grew their market shares from a year earlier, at the expense of Amazon.
In the latest refresh of the Echo product line, Amazon introduced a smart speaker device for almost every purpose. That might help the company push back against the competition.
Yandex's (YNDX) smart speaker Station went on sale in July, increasing the competition even more for market leaders such as Amazon.