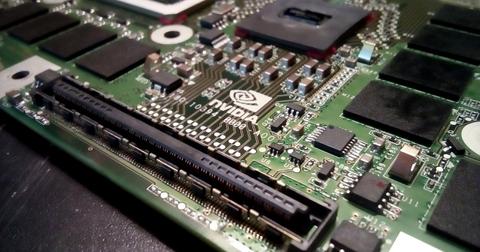 A Look at Initial Reviews of Nvidia's New GeForce RTX GPUs
By Puja Tayal

Oct. 1 2019, Updated 3:59 p.m. ET
Nvidia stock falls on initial reviews of GeForce RTX GPUs
Nvidia (NVDA) was once again in the news in August with the launch of its next-generation Turing GPU (graphics processing unit) architecture. It launched the industry's first real-time ray tracing consumer GPU GeForce RTX series built on TSMC's (Taiwan Semiconductor Manufacturing Company) (TSM) 12 nm (nanometer) node. That sent NVDA stock up 12% between August 20 and September 4.
The GeForce RTX 2080 Ti was priced at $999, the RTX 2080 at $699, and the RTX 2070 at $499. Nvidia stated that the Turing-based GeForce RTX GPUs delivered six times more ray tracing performance than Pascal-based GPUs.
The first two RTX GPUs hit the shelves on September 20. The initial reviews were disappointing in terms of value for money as they did not deliver a significantly better performance boost than its predecessors on existing games. That sent NVDA stock down 1.6% on September 21.
Article continues below advertisement
What reviews say about Nvidia's GeForce RTX series
The initial reviews on the GeForce RTX 2080 from The Verge, Tom's Hardware, and PCGamesN showed that the new GPU provided only a 3% performance boost over the previous-generation GeForce GTX 1080 Ti in traditional gaming, despite higher clock speeds, core count, and memory bandwidth.
It should be noted that the initial reviews did not test the RTX GPU's ray tracing and DLSS (Deep Learning Super Sampling) technology due to lack of supporting games and a software ecosystem. Gamers would have to wait until Microsoft (MSFT) delivers its Windows 10 October 2018 update to use the RTX GPU's new technology on existing games. Nvidia has promised that 25 games will support DLSS and 11 will support ray tracing in the coming months.
While the initial reviews are not that positive, new GeForce RTX GPUs have a good opportunity in the long term. Next, we'll see how these new GPUs could impact Nvidia's fiscal 2019 earnings.