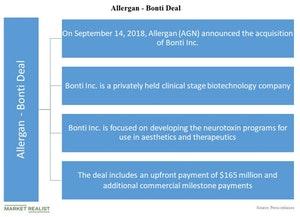 A Closer Look at the Allergan–Bonti Deal
By Mike Benson

Sep. 28 2018, Updated 12:51 p.m. ET
Allergan's announcement
On September 14, Allergan (AGN) announced the acquisition of Bonti Inc., a clinical-stage biotechnology company. Bonti is a privately held company focused on developing and commercializing the neurotoxin programs for use in aesthetics and therapeutics. The chart below shows the highlights of the deal.
Article continues below advertisement
About the acquisition
Allergan announced the acquisition of Bonti Inc., a privately held biotechnology company. The acquisition is expected to provide Allergan with the global rights to Bonti's pipeline, which includes two primary programs:
EB-001A (for Aesthetics)
EB-001T (for Therapeutics)
Both programs are botulinum neurotoxin serotype E (BoNT/E) programs and are currently in Phase 2 clinical development. EB-001 is the active ingredient for both programs and is a novel BoNT/E that onsets the action in 24 hours. EB-001 is effective for two to four weeks.
Bonti recently announced the positive top-line results of the first clinical study, which confirmed the safety and efficacy for EB-001 in glabellar frown lines. According to the company, ~65.0 million consumers in the United States are interested in injectable facial treatments, some of which may be interested in these fast-acting short duration products.
Allergan plans to make an upfront payment of $165.0 million toward the acquisition of Bonti Inc. There are additional milestone payments linked to the commercial milestones that are subject to adjustments and customary closing conditions.
The SPDR S&P Pharmaceuticals ET (XPH) holds 4.5% of its total investments in Allergan (AGN), 5.0% in Eli Lilly & Co. (LLY), 4.6% in Bristol-Myers Squibb Co. (BMY), and 4.7% in Pfizer (PFE).