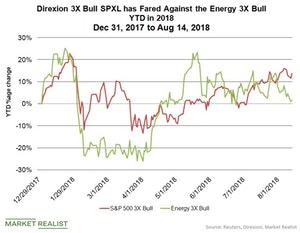 Will the Energy Sector Suffer Further amid Trade War Concerns?
By Direxion

Aug. 31 2018, Published 9:12 a.m. ET
Direxion
Energy is getting killed here at the end of the summer
After oil ran up in early July to over $75 per barrel, it has been heading straight down since then (below $65 as of the writing of this article). The turning point really appeared to be when OPEC said it would maybe pump more oil. But then data came out that it didn't.
Finally, a week or so ago, we learned that oil producers had actually been seeing a drop in demand for the black gold—actually not a drop, but a reduced rise in demand. So, not only does it make sense that oil prices would drop, but it also makes sense that OPEC would not be producing more.
Article continues below advertisement
In the midst of all this, we had President Trump saying that Saudi Arabia had agreed to produce 2 million more barrels per day. We're also at the end of the driving season in the United States, and the aforementioned China (which has slowed) consumes a lot of oil. Finally, the US dollar has been strong as well—not helping oil.
So, can these issues reverse themselves? Note in the chart below how energy was beating the market by 20%, but now is trailing by 10%—quite the 30% reversal.ERX (3X Bull Energy) and ERY (3X Bear Energy) can help you hedge or make the bounce-back bet, whichever you opt for.
Market Realist
US–China trade tensions took a toll on commodities
US-China trade war concerns affected crude oil prices as the dispute between the two nations is expected to affect global economic growth.
Adding fuel to the fire are the US sanctions against Iran's oil sector, which affected crude oil prices further. The sanctions are to become effective in November. In a Reuters article this week, Stephen Innes, head of trading for Asia-Pacific at futures brokerage OANDA in Singapore, mentioned that a falling US rig count and lower US inventories could support oil prices amid US–China trade war concerns.
Article continues below advertisement
A strengthening US dollar could affect crude oil prices further, as the chart above shows. For January 2017 to August 2018, the dollar index and crude oil prices have shown a negative correlation of 0.47, implying that a stronger dollar could adversely affect oil prices. The market turmoil this year, however, hasn't let the dollar rise as expected. The dollar index is up 4% year-to-date or YTD while crude oil prices have risen 10% YTD. Besides the dollar, other factors like OPEC production, weather, inventories, global economic growth, and inflation also affect oil prices.
An article by Tsvetana Paraskova for Oilprice.com stated that crude oil prices are expected to end 2018 at the current price levels, led by the current economic scenario. This opinion was shared by 25 analysts polled by the International Business Times and Newsweek last week. Analysts expect WTI crude oil to level at $67 per barrel at the end of this year. The S&P 500 Energy Index has only gained ~3.0% year-to-date as of August 14 despite the impressive earnings results in Q2 2018. An August 10 FactSet report stated that the energy sector reported the highest year-over-year earnings growth of all 11 sectors at 125.1% for Q2 2018.
Whichever direction the energy sector swings in the second half of 2018, investors can be prepared with Direxion's 3X Bull Energy (ERX) and 3X Bear Energy (ERY) ETFs.