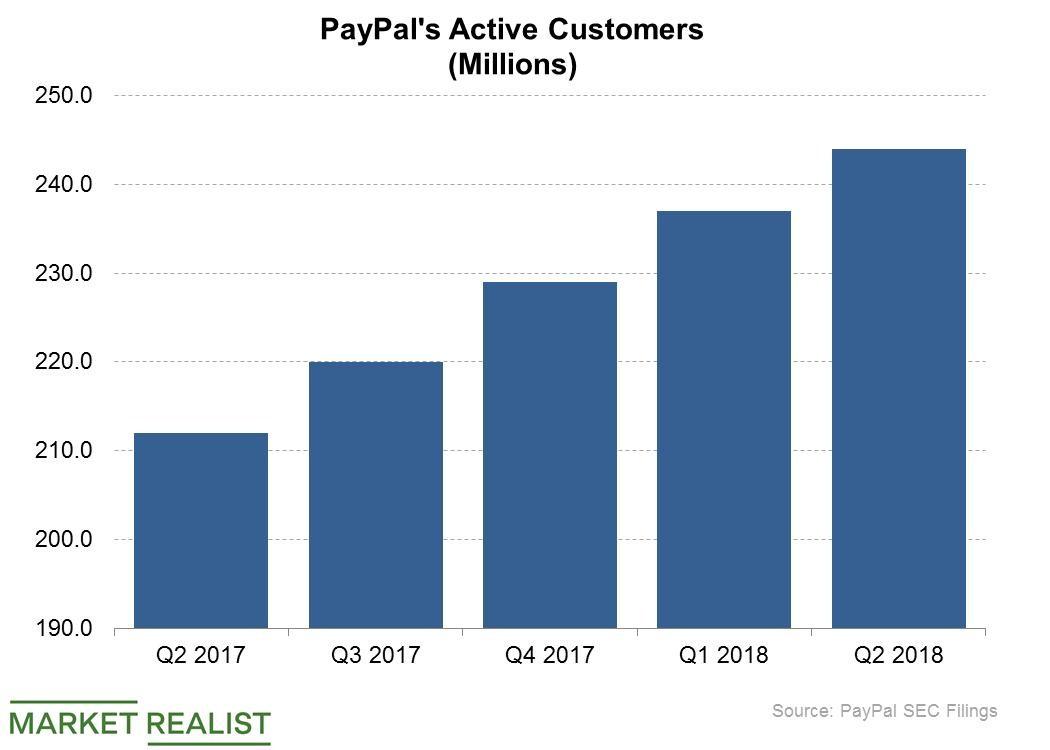 Why PayPal Isn't Panicked by Competition
By Neha Gupta

Aug. 13 2018, Updated 9:45 a.m. ET
PayPal takes pride in its two-sided network
The digital payment industry has continued to attract more players, resulting in more competition, particularly for market leaders like PayPal (PYPL). But PayPal is not worried about losing market share to competitors as much as it may appear that competition is increasing.
PayPal's confidence is based on the belief that the company has built a powerful two-sided network, which means reaching consumers and merchants at the same time. PayPal ended the second quarter with 244 million active customers globally, and about 20 million of them were merchants, according to the company's chief financial officer, John Rainey.
Article continues below advertisement
The industry is growing
The two-sided network gives PayPal a competitive advantage. For example, in trying to win Amazon (AMZN) business, one of the carrots PayPal has tried to dangle is that its network reaches over 200 million consumers who may be interested in shopping at Amazon using their PayPal accounts. The other reason PayPal is not panicked by the competition is that the digital payment industry is continuing to grow, so opportunities are increasing.
PayPal finding ways to partner with rivals
PayPal has also been able to dodge some pressure by partnering with would-be-rivals. It has struck partnerships with banks and card companies as well as Chinese Internet giants Baidu (BIDU) and Alibaba (BABA), both of which have in-house payment services. The partnership with Baidu allows PayPal merchants to accept payments made through Baidu's mobile wallet. The deal with Alibaba has allowed PayPal to process payments for Chinese businesses selling overseas through Alibaba's AliExpress platform.
Alibaba has an in-house mobile payment service called Alipay, which is operated by its affiliate, Ant Financial. Early this year, US regulators blocked Ant Financial from acquiring MoneyGram (MGI) because of national security concerns. MoneyGram had agreed to sell to Ant Financial for $1.2 billion.