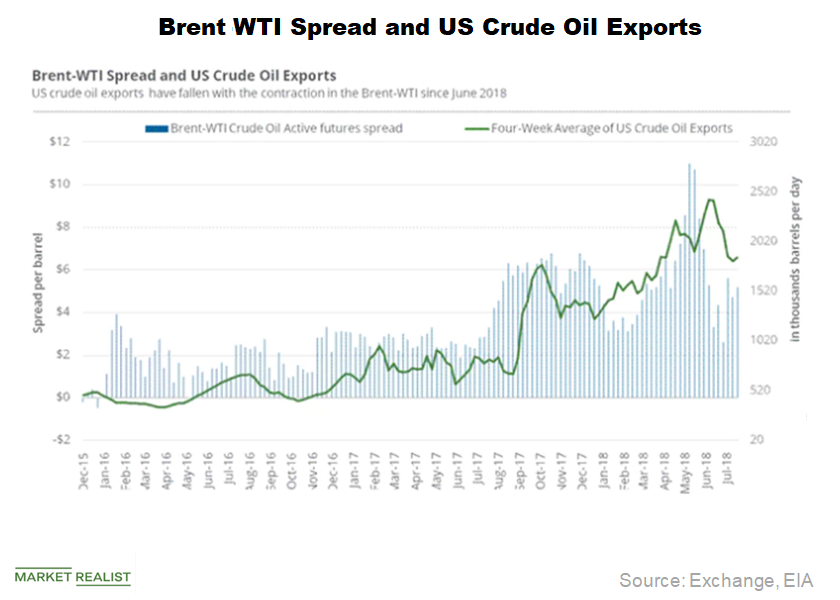 Why Higher Crude Oil Prices Are a Concern for US Trucking
Crude oil prices
The EIA (U.S. Energy Information Administration) anticipates Brent spot prices will average $72 per barrel in 2018 and $71 per barrel in 2019. According to the EIA, WTI crude oil prices will average $6 per barrel lower than Brent prices in 2018 and in 2019. The EIA predicts that crude oil production in the United States will average 10.7 million barrels per day in 2018, up from 9.4 million barrels per day in 2017. It forecasts US crude oil production to average 11.7 million barrels per day in 2019.
Article continues below advertisement
Crude oil price and US trucking
When oil prices go down, fuel expenses for US trucking companies decline, and thus their fuel surcharge revenues. Similarly, when oil prices go up, trucking companies' fuel expenses increase, resulting in increased fuel surcharge revenues. Trucking companies directly compete with the intermodal segment of railroads. When fuel prices are lower, it acts as a competitive advantage for trucking companies for time-sensitive deliveries and long-haul deliveries.
However, investors should note that railroads are almost four times more fuel efficient than trucks. When fuel prices go up, it benefits rail intermodal in the medium- as well as long-haul deliveries. Upward momentum in crude oil prices decreases the competitive advantage of trucking companies, specifically during periods of lower freight volume.
Currently, crude oil prices have gone up year-over-year in 2018 compared to 2017. With the rise in US industrial production, freight volumes have gone up this year compared to 2017. Higher freight and other regulations by the federal government have resulted in the tightening of truck capacity. That has resulted in increased spot and contract rates of for-hire trucks compared to last year.
If the trend of higher prices persists, it may lead to margin erosion, resulting in consolidations in the trucking industry. In addition, higher prices for crude oil will also result in market share loss to railroads in the intermodal business.