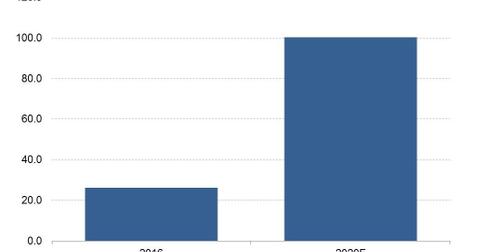 Why Google Might Want to Partner with Tencent
By Neha Gupta

Updated
Cloud services partnerships
Alphabet's (GOOGL) Google has entered discussions with Tencent (TCEHY), Inspur, and other Chinese companies about teaming up on cloud computing services in China, according to Bloomberg News. Tencent is a high-profile Internet company in China, and Inspur is a leading data center service provider in the country. 
Google doesn't have any data centers in mainland China, so it could use Tencent and Inspur data centers to offer its cloud services in China and acquire political cover in the process. Tencent has political ties in China, while Inspur was formerly a Chinese state-owned entity.
Article continues below advertisement
Foreign companies partnering to operate in China's cloud market
Chinese laws require digital information to be stored locally. As a result, foreign companies operating in the country have struck deals with domestic partners to use the partners' data centers or have the partners operate data centers on their behalf.
Amazon (AMZN) previously ran its own data centers in China. In 2017, it sold its China-based data center assets to Beijing Sinnet Technology. Amazon struck a deal to continue using those data centers to offer cloud services in China. 
Microsoft (MSFT) has partnered with data center service provider 21Vianet Group (VNET) to enable it to offer cloud services in China.
China's cloud market to top $100 billion by 2020
Alibaba (BABA) currently dominates China's cloud market, according to Synergy Research. China presents a huge opportunity for cloud companies. Forward Intelligence notes that the country's public cloud market is expected to grow to $100.4 billion by 2020, up from $26.1 billion in 2016.