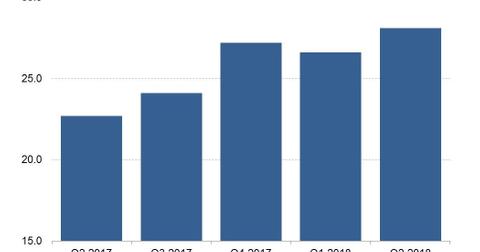 Why Google Eased Its Rehab Ad Ban
By Neha Gupta

Updated
Connecting people to rehab help
Alphabet's (GOOGL) Google has begun allowing rehab facilitates in the United States to market addiction-recovery services on its platforms, TechCrunch reported on August 2. For nearly a year, Google didn't allow addiction-related advertisements to appear on its platforms.
The ban on addiction ads was triggered by reports that some marketers were leading people to costly rehab centers providing dubious benefits. The ban allowed Google to determine how to ensure that addiction ads that appear on its platforms connect people with legitimate help.
Article continues below advertisement
Healthcare ads can be tricky
Google has teamed up with pharmacy and treatment verification provider LegitScript on a vetting program to ensure that only legitimate rehab facilities can market their treatment services on Google. Google has only begun accepting addiction treatment ads in the United States, with the international ban on such ads still intact.
Advertisements for treatment services and products can be challenging, requiring a cautious approach from companies providing online advertising services. Dubious medical ads caused a crisis at Baidu (BIDU) a few years ago, putting pressure on the company's financial performance for several quarters.
Advertising is Google's lifeblood
Cryptocurrency ads are another controversial subject related to online advertising. In China, Baidu and Alibaba (BABA) don't allow crypto-related ads on their platforms. Baidu is China's largest online search provider, and Alibaba is the country's largest e-commerce company. 
Google, Facebook (FB), and Twitter (TWTR) have also restricted the advertising of crypto products on their platforms. However, Facebook has begun accepting crypto ads from companies that have passed a vetting process.
Advertising is the lifeblood of Google and its parent, Alphabet. Ad sales rose 23.8% year-over-year to $28.1 billion at Alphabet in the second quarter and accounted for 86.0% of the company's total revenues.