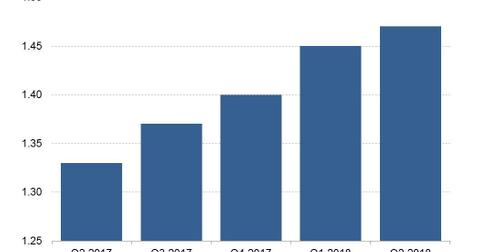 Why Facebook Is Measuring Users' Credibility
By Neha Gupta

Updated
Fighting online misinformation
Facebook (FB) is assigning its users a credibility score based on their track record for flagging fake news, a company executive told the Washington Post recently. The credibility score is on a scale of zero to one.
Measuring users' trustworthiness in reporting fake news and then assigning them a credibility score is part of the efforts Facebook is making to fight online misinformation, the company's product manager, Tessa Lyons-Laing, told the Post.
Facebook reached an average of 1.5 billion people daily worldwide in the second quarter compared to Snapchat's (SNAP) daily audience of 188 million in that period. Twitter (TWTR) doesn't disclose the size of its daily audience, but it said its audience grew 11% year-over-year in the second quarter.
Article continues below advertisement
Gaming the system
To identify fake news on its platform, Facebook relies in part on signals from its users. The company encourages users to report stories with disputed facts for further review and action. However, it has realized that some people flag stories as fake simply because they disagree with them or want to target a particular publisher.
Therefore, taking the trustworthiness of users into account may help Facebook get better at identifying fake news and malicious actors on its platform.
Investing in reputation enhancement
The bigger picture related to Facebook's expanding its efforts to fight misinformation on its platform is that doing so is an investment in enhancing its own reputation, which could help it keep its advertisers from fleeing.
The rise of marketplaces as the places where online shoppers begin their product searches has empowered e-commerce companies, such as Amazon (AMZN) and eBay (EBAY), to give Facebook and Google tough competition in the race for digital advertising dollars. Amazon and eBay grew their second-quarter revenues 39.3% and 9.1%, respectively, year-over-year.