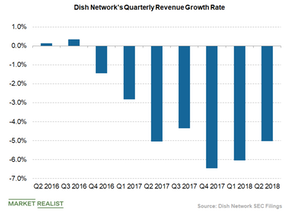 Why Are Dish Network's Revenues Declining?
By Sophia Nicholson

Aug. 8 2018, Updated 11:50 a.m. ET
Dish Network's revenue trend
Dish Network's (DISH) revenues have been declining YoY (year-over-year) for the past seven quarters. In the second quarter of 2018, its revenues reached $3.46 billion, down 5.02% YoY. But its revenues exceeded analysts' expectations of $3.44 billion.
Article continues below advertisement
Reasons for the revenue decline
The prime reason for Dish Network's declining revenues is a declining customer base, offset by higher ARPU (average revenue per user). The company is also losing its DISH TV customers, which is leading to an overall decline in pay-TV subscribers. It's seeing a continuous decline in subscriber-related revenues. In 2017, those revenues fell 5.1% to $14.3 billion. In the second quarter of 2018, subscriber-related revenues, which comprise 98.8% of its revenues, fell 5.3% YoY to $3.42 billion.
Declining subscriber base
In the second quarter, Dish Network posted net losses of 192,000 DISH TV customers, although that was better than analysts' expectation of a loss of 235,000. The company added 41,000 Sling TV subscribers during the quarter. Overall, its pay-TV subscribers fell a net 151,000 in the second quarter, ending with ~13 million subscribers compared to ~13.33 million in Q2 2017. DISH TV subscribers were 10.65 million in the second quarter, and Sling TV subscribers were 2.34 million.
Comcast (CMCSA) and Charter Communications (CHTR), traditional pay-TV companies, have also been losing video customers due to cord-cutting and competition from over-the-top players in the industry. Charter lost 73,000 residential video customers in Q2 2018, and Comcast reported a loss of 136,000 residential video customers that same quarter. AT&T (T), the second-largest wireless service provider in the United States, lost 286,000 satellite TV customers and added 24,000 U-verse TV customers in the second quarter.
Amid declining pay-TV customers, Dish Network is trying to get more customers on board through Sling TV, its online streaming service. However, Sling TV growth slowed down after 2017.