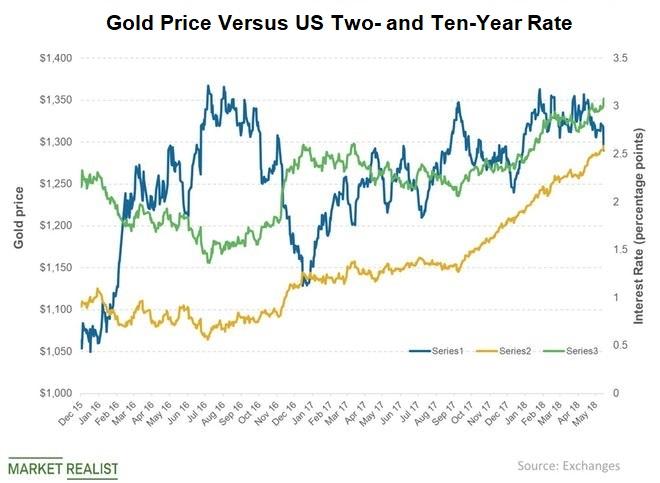 Why an Autumn Rally in Gold Could Be around the Corner
By Anuradha Garg

Aug. 13 2018, Updated 10:30 a.m. ET
Gold's weakness could reverse
As we've discussed previously in this series, the SPDR Gold Trust ETF (GLD) has fallen ~8.0% year-to-date and ~11.0% from its April peak. The sentiment for gold is quite bearish right now. This is a seasonally weaker period for the precious metal, which could give investors an opportunity to buy gold at low levels and hold it as a hedge against economic uncertainty.
Article continues below advertisement
A seasonally strong period ahead
Historically, gold prices have declined in the summer months, only to climb in August onward due to the seasonal pattern of demand for gold. Physical gold demand from Asian countries such as India supports its price after that.
Year-to-date, gold prices (IAU) haven't seen any significant gains from volatility caused by President Trump's uncertain and sometimes mercurial policy changes. Gold prices haven't gained despite increasing trade concerns. Because gold is considered a safe-haven investment, gold prices typically rise when geopolitical concerns increase. Gold's rally has been stalled by the US dollar's rally and the Fed's tighter policy stance.
Factors that could reverse gold's slide
While the US dollar (USDU) has been gaining as a safe-haven asset as trade concerns heighten, a further increase could leave the dollar vulnerable. Markets seem to have priced in the policy divergence theme and the rate hike (TLT) trajectory by the Fed. This could mean a limited upside for the dollar (UUP) and even weakness going forward, which could benefit gold.
The current technical indicators point to an extremely oversold position for gold. As we saw in the latest COT (Commitment of Traders) report, money managers' net long positions are the lowest since 2015, a trend that usually precedes a rally.