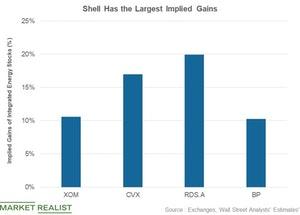 Who among XOM, CVX, Shell, and BP Could Post the Most Gains?
Analysts' ratings for integrated energy companies
In the previous article, we began reviewing integrated energy companies' analyst ratings. We compared the overall ratings of ExxonMobil (XOM), Royal Dutch Shell (RDS.A), BP (BP), and Chevron (CVX). We also looked at analysts' ratings for Shell and CVX.
Now let's look at analysts' ratings for BP and XOM.
Article continues below advertisement
Will analysts' ratings for BP strengthen?
BP has a robust strategy in place. It includes cutting costs, optimizing capex, and selling noncore assets. BP has already started witnessing an improvement in its financial position. Its second-quarter earnings and operating cash flows rose steeply.
In fact, in the quarter, its cash flows from operations were more than sufficient to cover its capex and dividend expenses. This was a favorable development, as in the past several quarters, BP's operating cash flows fell short of its capex and dividend spending, leading the company to either borrow or use its cash reserves. Surplus cash flow from operations points to a better liquidity position.
Analysts' ratings for BP could improve mainly backed by its strengthening financials. BP's mean target price of $49 implies a 10% gain from its current level.
ExxonMobil's high "hold" and "sell" ratings
ExxonMobil's expansion activities are spread across its business segments, making its earnings model integrated and partially protecting it from oil price volatility. The company's inorganic and organic growth strategies in its Upstream and Downstream segments will likely expand its portfolio and enhance its earnings.
The higher valuation that XOM holds compared to its peers is most likely the cause for its majority "hold" and "sell" ratings. ExxonMobil's mean target price is $89, which implies an ~11% rise from its current level.