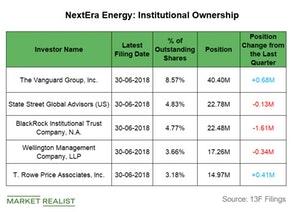 Who Added Big Positions in NextEra Energy in Q2 2018?
By Vineet Kulkarni

Updated
NextEra Energy
The Vanguard Group is the largest institutional investor in renewables titan NextEra Energy (NEE). It added net ~0.7 million shares of NEE to its existing holdings in the second quarter.
According to its latest filing, Vanguard Group held 8.6% of NEE's total outstanding shares on June 30. In the first quarter, Vanguard held an 8.4% stake with 39.7 million total shares.
Article continues below advertisement
Institutional activity in NEE
Florida-based NextEra Energy (NEE), the largest utility by market capitalization, is one of the top gainers among the broader utilities (XLU)(IDU) this year. Its better-than-expected earnings have driven its stock in the last few years.
State Street Global Advisors, the second-largest investor in NEE, marginally lowered its stake in the utility in the second quarter. On June 30, it held 4.8% of its total outstanding shares in NEE with ~22.8 million shares.
Wellington Management sold net 340,000 shares of NextEra Energy in the second quarter. It held 3.7%, or 17.3 million shares, in NEE on June 30.
BlackRock Institutional Trust sold more than 1.6 million shares of NextEra Energy stock in the second quarter, which decreased its stake to 4.8% in the renewables giant. In the first quarter, it held a 5.1% stake in NEE.
Among the top buyers, Managed Account Advisors added net 2.4 million shares of NEE during the second quarter. It held a 1.5% stake in NEE on June 30.
Conservative investors might not like NextEra Energy because of its 2.7% dividend yield, the lowest among the top utilities (IDU). NextEra Energy is the largest component of the Utilities SPDR ETF (XLU. However, the double-digit annual dividend growth and strong growth prospects offset the concerns.