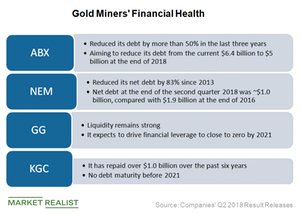 Which Gold Miners Are in Sound Financial Health?
By Anuradha Garg

Updated
Strengthening balance sheets
As precious metals prices started weakening, investors shifted their focus from high-leverage miners (GDX) (GDXJ) to low-leverage miners with sound growth plans, leading miners to trim their balance sheets.
Article continues below advertisement
Improving financial profiles
Newmont Mining's (NEM) net debt at the end of the second quarter was ~$1 billion compared to $1.9 billion at the end of 2016. Its net debt-to-adjusted EBITDA was 0.4x at the end of the second quarter compared to 0.7x at the end of the first quarter of 2017 and 1.3x at the end of 2015. The improvement was due to its EBITDA improvement and net debt reduction.
After reducing its debt by more than 50% in the last three years, Barrick Gold (ABX) is aiming to reduce its debt from the current $6.4 billion to $5 billion at the end of 2018. After the second quarter ended, Barrick Gold's total debt declined to $5.8 billion compared to $6.4 billion at the end of the first quarter.
Strong financial position
Kinross Gold (KGC) has the financial strength and flexibility to invest in the future as it executes on five projects and advances three additional development opportunities. It has repaid more than $1 billion over the past six years. Its current net debt-to-EBITDA ratio is 0.7x, and its financial position continues to be strong.
Goldcorp's (GG) balance sheet remains strong compared to most of its close peers. At the end of the second quarter, its net debt and adjusted net debt totaled $2.4 billion and $2.3 billion, respectively. Its net-debt-to-EBITDA ratio is on a downward trend. Currently, its leverage ratio is close to 1.7x and is expected to fall below 1.0x by 2019. The company expects it to drive to zero or near it by 2021.
In the next article, we'll look at gold miners' liquidity profiles and see what we can learn from them.