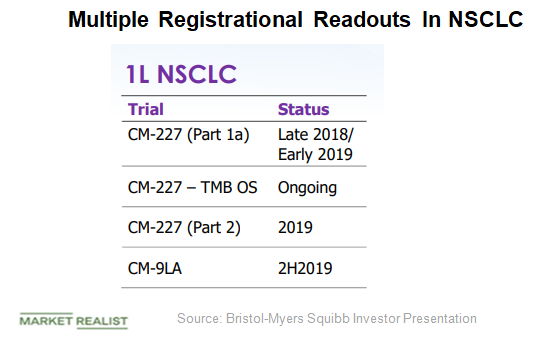 What's the Latest from Bristol-Myers Squibb's Research Pipeline?
By Kenneth Smith

Aug. 7 2018, Updated 10:30 a.m. ET
Recent approvals
In May, Bristol-Myers Squibb's (BMY) Opdivo and Yervoy combination was approved in Japan for previously untreated patients with unresectable melanoma. In January, Yervoy had received the European Commission's approval for the treatment of advanced melanoma in pediatric patients 12 years of age and older. Bristol-Myers Squibb's Orencia was also approved in Japan in February for the intravenously administered treatment of moderate to severe polyarticular juvenile idiopathic arthritis in patients two years of age and older.
In July, the European Commission expanded the indication for Bristol-Myers Squibb's Sprycel to include the treatment of children and adolescents with chronic phase Philadelphia chromosome-positive chronic myelogenous leukemia and to include a powder for oral suspension.
Article continues below advertisement
Major research pipeline developments
During the second quarter, Bristol-Myers Squibb announced the results of its Phase 3 checkmate-238 trial in which Opdivo is being evaluated against Yervoy in patients with stage 3B/C or stage four melanoma who are at a high risk of recurrence of the disease after a complete surgical resection. The results showed a statistically longer recurrence-free survival rate of 62.6% for Opdivo, which was the primary endpoint of this study, compared to Yervoy's 50.2%.
In June, the company announced that the FDA had lifted a partial clinal hold on its CheckMate-602 Phase 3 study evaluating the addition of Opdivo to pomalidomide and dexamethasone in patients with relapsed or refractory multiple myeloma. This key decision came after Bristol-Myers Squibb's consultation with the FDA and their agreement on amendments to the study protocol.
In the next article, we'll take a look at Bristol-Myers Squibb's valuation metrics.