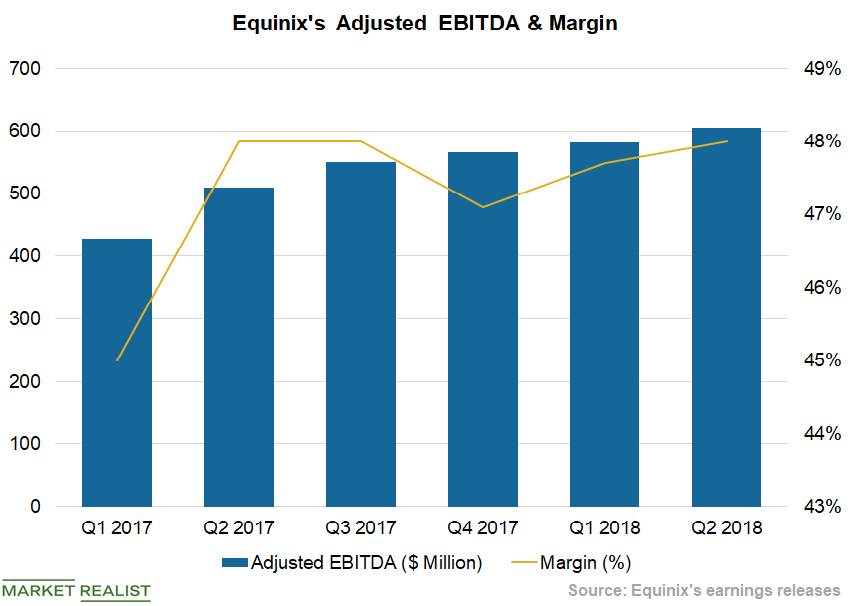 What's Driving Equinix's Adjusted Earnings and Margin?
By Anirudha Bhagat

Aug. 9 2018, Updated 4:30 p.m. ET
Higher adjusted EBITDA
Equinix's (EQIX) second-quarter adjusted EBITDA of $604 million rose ~19% on a YoY (year-over-year) basis and surpassed its own guidance range of $579 million–$589 million. Higher revenues and lower integration costs mainly drove the adjusted EBITDA growth. The adjusted EBITDA margin of 47.9% was ahead of the company's own expectation of 46.3%. However, the EBITDA growth remained flat compared to the second quarter of 2017.
Article continues below advertisement
Equinix recorded tremendous growth in its adjusted EBITDA and margins across its Asia-Pacific and EMEA (Europe, Middle East, and Africa) regions. In the Americas region, the adjusted EBITDA margins were pressured due to increased integration costs for data centers acquired from Verizon Communications (VZ). The integration costs offset the benefits of high margins across the Asia-Pacific and EMEA regions, which resulted in a flat adjusted EBITDA margin YoY.
For the second quarter, the adjusted EBITDA from the Americas region grew ~14% YoY to $294 million. However, the margin remains flat at 48%. The EMEA region recorded 20.4% growth YoY and reached $171, while the margin expanded by 100 basis points to 45%. The adjusted EBITDA from the Asia-Pacific region increased 26.4% YoY to $139 million, while the margins grew by 100 basis points to 53%.
Article continues below advertisement
Recurring business model
Equinix's business is based on a recurring revenue model, which accounts for ~94% of the company's total revenues. Under the business model, most of the costs are fixed. Customers are charged at fixed rates on a recurring basis throughout the term of their deals.
Therefore, every unit growth in customers brings in incremental revenues. Since most of the costs are fixed in nature, it lowers the expenses as a percentage of total revenues and expands the company's profitability. The benefit of the recurring business model is reflected in Equinix's continuously rising adjusted EBITDA. The company maintained a margin of over 45% for the past several quarters.
For the third quarter and fiscal 2018, the company expects an adjusted EBITDA of $591 million–$601 million and $2.379 billion–$2.419 billion, respectively. At the mid-point of the guidance ranges, the adjusted EBITDA margin for the third quarter and fiscal 2018 is 46.7% and 47.4%, respectively.