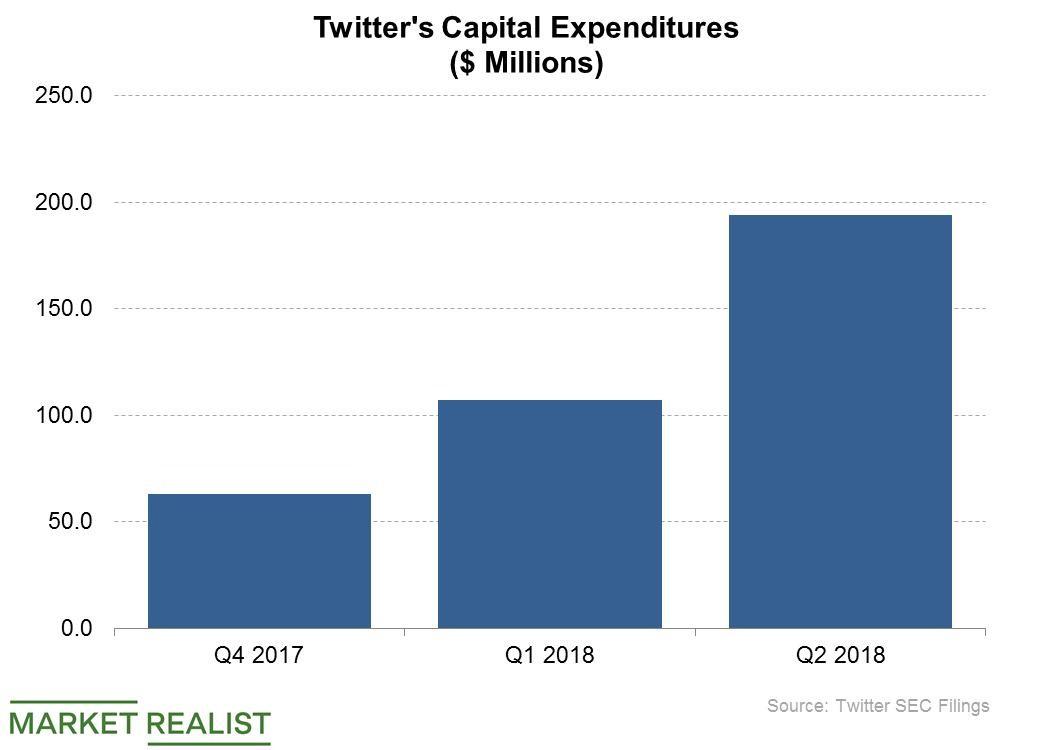 What's Driving Capex at Twitter?
By Neha Gupta

Aug. 22 2018, Updated 10:30 a.m. ET
TWTR's 2018 capex could hit $500 million
Twitter's (TWTR) capex is rising, as can be seen from the numbers the company has reported in recent quarters and what it has projected for 2018. A quick glance reveals that Twitter's capex has risen by tens of millions of dollars in each of the last three quarters. Twitter also recently revised its 2018 capex projection upward.
Twitter's capex was $194 million in the second quarter, up from $107 million in the first quarter of 2018 and $63 million in the fourth quarter of 2017. In 2017, Twitter's capex was $281 million. The company now sees its 2018 capex rising to $450 million–$500 million. It had previously guided for 2018 capex in the range of $375 million–$450 million.
Article continues below advertisement
Infrastructure investments drive capex
Twitter's capex is on the rise because of its investments in infrastructure, which include setting up or upgrading its data centers. The company has said that infrastructure investments are aimed at supporting its product priorities.
Google and Facebook also spend big on capex
Facebook (FB) and Google parent Alphabet (GOOGL) are also allocating huge amounts to capex. Facebook's capex was $3.5 billion in the second quarter, with the company citing investments in data centers, network infrastructure, and office facilities as their main capex items in the quarter. Alphabet's capex was $5.5 billion in the second quarter, more than double its capex a year ago.
Alphabet has also been investing in buildings and data centers as its Google unit works to catch up to Amazon (AMZN) and Microsoft (MSFT) in the cloud space. Google currently controls just 6.0% of the global cloud market, according to Synergy Research. This amount compares to Amazon's 34% and Microsoft's 14%.
Twitter is a Google Cloud customer.