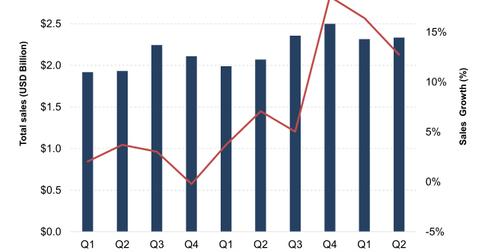 What's behind PVH's Better-than-Expected Top Line?
By Sonya Bells

Aug. 30 2018, Published 8:52 a.m. ET
PVH reports healthy top-line growth
PVH (PVH), which reported second-quarter results after the market closed yesterday, delivered its eighth straight top-line beat. Its total sales increased 12.7% YoY to $2.33 billion, $47 million more than Reuters' revenue expectations. Currency had a two-percentage-point positive impact on the top line.
The company also did better than the management's expectations of a 10% YoY increase in sales as key brands Calvin Klein and Tommy Hilfiger once again outperformed expectations.
Article continues below advertisement
"Our better than expected second quarter revenue and earnings reflected continued broad-based strength across our businesses and further underscored the momentum in our global designer lifestyle brands, CALVIN KLEIN and TOMMY HILFIGER, and the power of our diversified business model," said Emanuel Chirico, chair and CEO of PVH.
Calvin Klein
Calvin Klein's sales increased 18% YoY to $925 million, outdoing management's guidance of 14% growth. International sales improved 16% YoY to $458 million including a 5% increase in comps. Europe and Asia, once again, were the stronger performing regions.
North America continued to build momentum and grew a solid 19% during the quarter. Strong results for the wholesale channel drove the brand's business, though retail comps also improved 2% during the quarter.
Tommy Hilfiger
Tommy Hilfiger sales increased 15% YoY to $1 billion during the second quarter. Management, in comparison, guided for a 12% YoY jump in sales for the business. International sales improved 20% YoY to $592 million including an 11% increase in comps. North America sales increased 9% YoY to $437 million as the brand continued to witness strength in the wholesale channel and posted a 5% jump in comps.
Read the next section for a look at margins and profitability during the quarter.