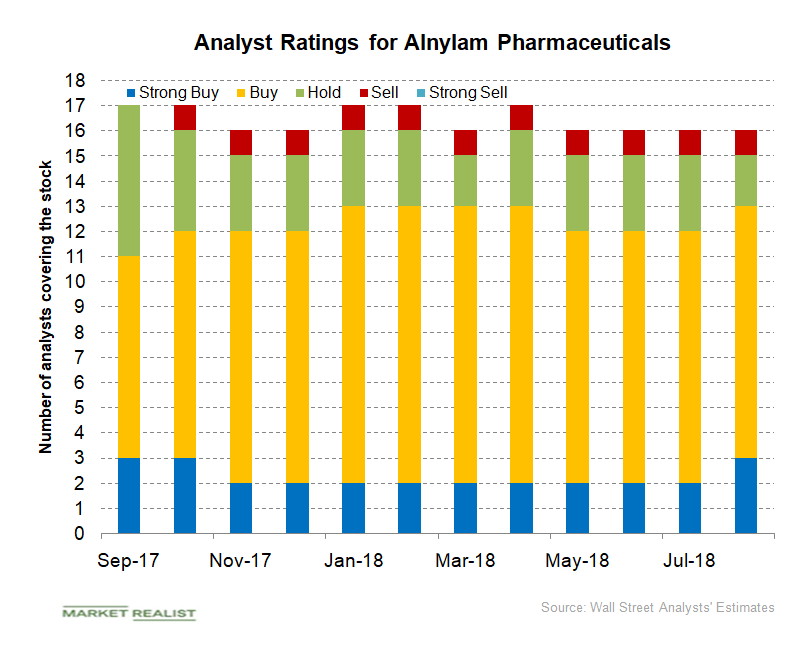 What Does Alnylam Pharmaceuticals' Valuation Trend Indicate?
By Kenneth Smith

Aug. 13 2018, Updated 7:30 a.m. ET
Lumasiran and cemdisiran
Alnylam Pharmaceuticals' (ALNY) investigational RNAi therapeutic drug lumasiran is being developed for the treatment of primary hyperoxaluria type 1 (or PH1). Alnylam expects to initiate a Phase 3 trial of the drug in 2018, with its results expected in late 2019.
Alnylam also expects initial data from the Phase 2 trial of cemdisiran to arrive in 2019. The drug is being developed for the treatment of atypical hemolytic-uremic syndrome. Currently, Alnylam is also enrolling patients in the Atlas Phase 3 program for its investigational therapeutic drug fitusiran, which is under development for the treatment of hemophilia A and B.
Article continues below advertisement
Valuation metrics
Alnylam Pharmaceuticals' EV (enterprise value) is $7.94 billion, and its EV-to-revenue ratio is 74.34. Its price-to-book ratio is 5.85. Its current ratio, a metric of how effectively it can meet its short-term obligations, stands at 13.20. Alnylam's long-term debt-to-equity ratio stands at 0.02, indicating that it has not taken on significant leverage.
In comparison, the long-term debt-to-equity ratios of its peers Amgen (AMGN), Celgene (CELG), Alexion Pharmaceuticals (ALXN), and Regeneron Pharmaceuticals (REGN) stand at 2.03, 5.76, 0.33, and 0.10, respectively.
Analysts' recommendations
In August, of the 16 analysts covering Alnylam Pharmaceuticals, 13 have given the stock "buy" or higher ratings, two have given it "hold" ratings, and one has given it a "sell" rating. The mean rating for Alnylam stock is 2.06, and its target price is $149.4.
Peers' ratings
In comparison, for peers Amgen, Celgene, Alexion Pharmaceuticals, and Regeneron Pharmaceuticals, analysts have mean ratings of 2.3, 2.22, 1.84, and 2.56, respectively, and target prices of $204.26, $113.78, $159.17, and $406.05, respectively.