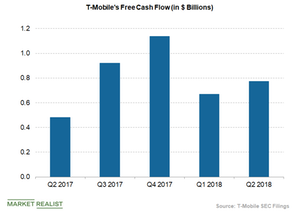 What Are T-Mobile's Capital Expenditure Plans?
By Sophia Nicholson

Aug. 21 2018, Updated 7:30 a.m. ET
T-Mobile's capex trend
T-Mobile (TMUS) has been consistently investing its capital to grow its network. During its second quarter of 2018 conference call, it reported that it spent $1.6 billion on capital expenditures, including $102 million on capitalized interest expenses. Its capex levels were 21% higher than its spending of $1.3 billion for the purchases of property and equipment in Q2 2017. Capital spending in Q2 2017 also included $34 million in capitalized interest expenses. Capex was also higher than $1.4 billion in Q1 2018.
For 2018, T-Mobile expects capital spending of $4.9 billion–$5.3 billion, including expenditures for 5G (fifth-generation) deployment.
Article continues below advertisement
T-Mobile's free cash flows 
In Q2 2018, T-Mobile's free cash flow increased significantly by 61% YoY (year-over-year) to $774 million. Its free cash flow grew due to higher proceeds related to the deferred purchase price from securitization transactions and higher operating cash flows, partially offset by higher cash capex. The continued deployment of its 600 MHz (megahertz) spectrum increased its capex in the quarter.
Spectrum
T-Mobile has been continuing to deploy new spectrum, densify its network, and increase capital spending to lay the groundwork for its 5G deployment. At the end of the second quarter, T-Mobile had covered ~323 million people with 4G (fourth-generation) LTE (Long-Term Evolution) at an average 4G LTE download speed of 31.8 Mbps (megabits per second) and an average 4G LTE upload speed of 11.9 Mbps. T-Mobile has been offering the fastest LTE network for the past 18 quarters. For 2018, it plans to reach 325 million people with 4G LTE.
The company also started an aggressive deployment of 600 MHz in Q2 2018. The company expects to deploy spectrum of ~130 million POPs (points of presence) by the end of 2018 and ~260 million by the end of 2019.
The company is also augmenting existing low-band capabilities on 700 MHz and has deployed low band spectrum to ~289 million POPs, combining 600 MHz and 700 MHz spectrum.
T-Mobile's mega-merger agreement with rival Sprint (S) is also expected to create an improved 5G network and strengthen its customer base to keep up the pace with the two largest wireless companies, Verizon (VZ) and AT&T (T).