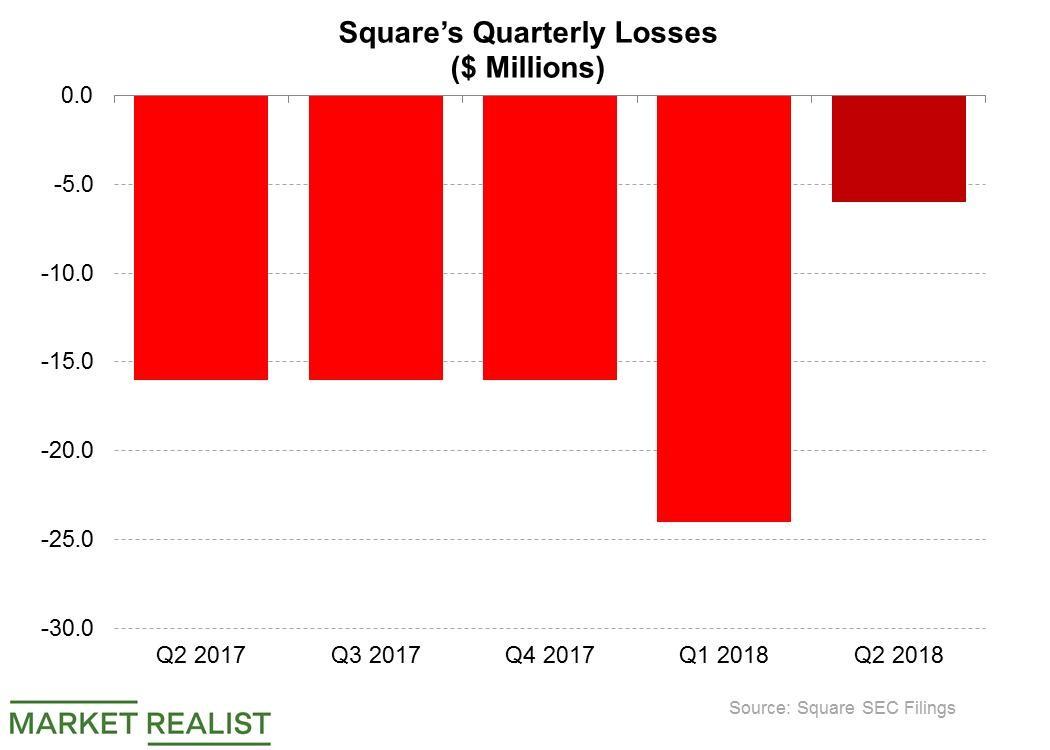 Understanding Square's Soft Profit Guidance
By Neha Gupta

Aug. 20 2018, Updated 1:50 p.m. ET
Earnings guidance below consensus estimate
Square (SQ) issued its earnings guidance for the third quarter and for 2018, which were both below the consensus estimate. It sparked a sell-off in the stock. The company is expecting its third-quarter adjusted EPS to be $0.08–$0.10. The market expects EPS of $0.13. For 2018, Square has forecast a loss per share of $0.17–$0.21, which is more than a $0.16 loss per share expected by the market.
But Square's revenue guidance for the third quarter and 2018 are above the estimates. It expects adjusted revenue of $407 million–$412 million for the quarter, which is above the median forecast of $384.5 million. The company guided 2018 adjusted revenue at $1.52 billion–$1.54 billion compared to the market expectation of $1.47 billion. The revenue guidance suggests that Square expects its top line to grow.
Article continues below advertisement
Gains are reinvested
If Square expects its revenue to grow and edge out the consensus forecast, why is it issuing soft earnings guidance? The answer is that for now, Square is prioritizing growth over short-term profits. Its soft profit guidance doesn't imply a weakness in the business but that management is choosing to reinvest its gains.
Loss narrowed
Despite reinvesting in the business, Square significantly narrowed its GAAP loss to $6 million in the second quarter from $16 million in Q2 2017. Amazon (AMZN), eBay (EBAY), and PayPal (PYPL) posted profits of $2.5 billion, $642 million, and $526 million, respectively, in the second quarter. Twitter (TWTR), the other company run by Square CEO Jack Dorsey, posted a $100.1 million profit in the second quarter.