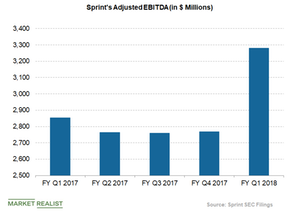 Understanding Sprint's Cost-Savings Measures to Boost Profits
By Sophia Nicholson

Aug. 17 2018, Updated 9:02 a.m. ET
Sprint's cost-cutting measures
Sprint (S) has been cutting its costs and reviving its profits in the wireless space. In fiscal 2017, it realized nearly $1.1 billion in net cost reductions, including lowering the cost of services and selling, general, and administrative expenses. In the fiscal first quarter, Sprint reduced by $100 million YoY (year-over-year) its combined operating expenditures across cost of services and selling, general, and administrative expenses, mainly due to lower wireline network expenses and lower bad debt and marketing expenses. It further expects the YoY cost reductions to be less than $0.5 billion for fiscal 2018.
The company has been eliminating more than $1 billion in costs in each of the past four years. It has already cut ~$6 billion in costs over the last four years.
Article continues below advertisement
Cost-savings led to higher EBITDA growth
Sprint's cost-saving measures, including several Next-Gen Network initiatives and the expansion of its retail distribution for both prepaid and postpaid customers, have been impressive. They have significantly contributed to its turnaround in customer additions in the past four quarters.
Excluding the gain from the new revenue standard, the company also reported its highest adjusted EBITDA of $3.1 billion in 11 years, which is 8% higher YoY. Operating income of $623 million also marked the tenth consecutive quarter of positive operating income in the first quarter.
Due to cost-savings efforts and the underlying growth trends, Sprint continues to expect adjusted EBITDA of $11.3 billion–$11.8 billion. Including the impact of the new revenue recognition accounting standard, adjusted EBITDA is expected to increase to $12 billion–$12.5 billion for fiscal 2018 compared to $11.6 billion–$12.1 billion expected earlier. 
Merger of T-Mobile and Sprint could create synergies
T-Mobile (TMUS) and Sprint, the third-largest and fourth-largest wireless service providers in the United States, announced a merger deal on April 29. The combined entity intends to strengthen its customer base, improve its 5G (fifth-generation) network scale, boost its cost synergies, and fight dominant players Verizon (VZ) and AT&T (T).
The combined entity is expected to generate total adjusted EBITDA of $22 billion–$23 billion in fiscal 2018, which implies an adjusted EBITDA margin of 40%–42%, with a three-year to four-year target of 45%–47%. However, the combined entity expects to achieve an adjusted EBITDA margin of 54%–57% in the long term.