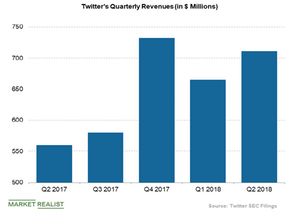 Twitter's Revenue Growth in Q2 2018
By Sophia Nicholson

Aug. 1 2018, Updated 11:55 a.m. ET
Twitter beats revenue estimates in Q2
Social media giant Twitter (TWTR) topped Wall Street's revenue expectations when it reported its second-quarter 2018 results last week. It posted a top line of $711 million, which surpassed the consensus estimate by 2.1% and increased ~24% YoY (year-over-year). However, it reported sluggish monthly user numbers, which pulled down Twitter stock more than 20% on July 27.
Article continues below advertisement
Twitter's revenue growth
Twitter's revenue growth of 24% came on the back of growth in both domestic and international revenue, improved advertising growth, and a rise in data licensing and other revenue. Excluding $14 million of revenue in Q2 2017 from its TellApart product, Twitter's revenues increased 27% YoY in the second quarter of 2018. It generated $30 million of revenue from the World Cup during the quarter.
Twitter's user base growth is coming more from international markets since the US markets have become saturated. US revenues increased 10% YoY to $367 million, and international revenues grew 44% YoY to $344 million, mainly from China and Japan. Other markets such as the Middle East, North Africa, Brazil, France, and Mexico also showed strength in the quarter. Twitter expects international revenue to continue to grow faster than growth in the United States. Data licensing and other revenue rose 29% YoY to $109 million in the quarter.
Advertising revenue
During the second quarter, Twitter's advertising revenue increased 23% YoY to $601 million. The double-digit advertising growth was driven by higher ad engagements and a decline in CPE (cost per engagement). Total ad engagements increased 81% YoY, while CPE decreased 32% YoY in the quarter.
The company expects its advertising revenue to grow since the trend is changing and marketers prefer to invest money in digital advertising rather than television. Like Twitter, Internet rivals Facebook (FB), Snap (SNAP), Yelp (YELP), and Alphabet's (GOOGL) Google look to advertising sales for most of their revenues. In Q2 2018, Facebook's ad sales increased 42% YoY, which was faster than Google's ad sales growth of 23.9% YoY.