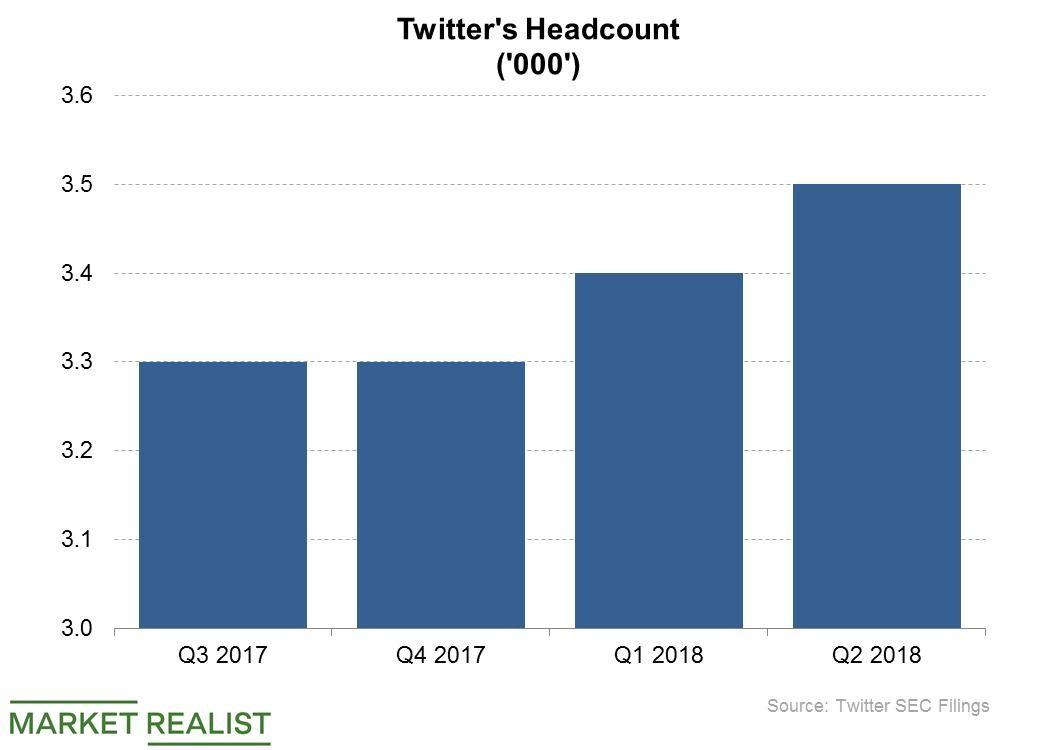 Twitter's Head Count to Rise 15% in 2018
By Neha Gupta

Aug. 22 2018, Updated 9:00 a.m. ET
Head count grew 10% in the latest quarter
Twitter's (TWTR) head count is set to increase up to 15% this year from last year. Its head count increased 10% YoY (year-over-year) in the second quarter. Twitter has stepped up its hiring at the same time as it has stepped up a crackdown on what it deems malicious accounts.
The company has recently shut down millions of bogus and malicious accounts, and it continues to remove such accounts to improve the health of its platform and its image among users, advertisers, and regulators. As Twitter steps up its hiring process, Snap (SNAP) has been cutting jobs as part of its efforts to control costs.
Article continues below advertisement
Twitter donated revenue amid criticism
Malicious accounts have been used to spam, harass, and even spread false news on Twitter, resulting in a blistering criticism of the company after it emerged that foreign agents had used its platform and others to try to sow discord among American voters ahead of the last presidential election. Facebook (FB) and Alphabet's (GOOGL) Google also came under fire for allegedly providing a platform for Russian agents to meddle in the American election.
Amid this criticism, Twitter donated nearly $2.0 million, reflective of the amount it was estimated to have generated from running advertisements purchased by Russian media outlets linked to the malicious campaign to meddle in the American democratic process.
Twitter employs over 3,500 people
Twitter has said that its hiring this year is focused on certain strategic priorities, including ad products, marketing, audience growth, and platform health.
The company had more than 3,500 employees at the end of the second quarter. It sees its head count rising 10%–15% in 2018. Amazon (AMZN) exited the second quarter with 576,000 employees worldwide.