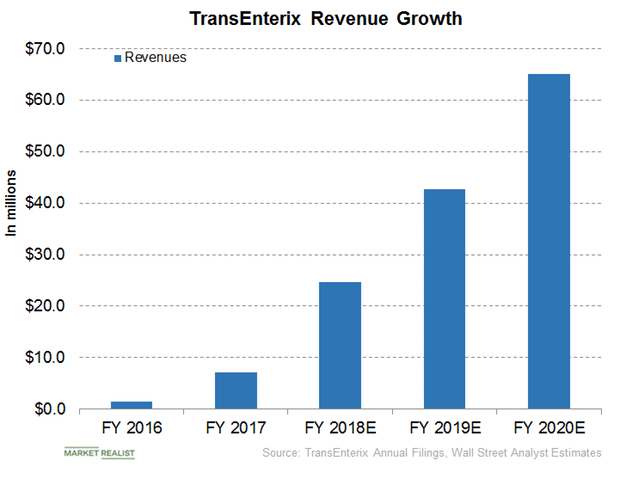 TransEnterix Expected to Report Solid Rise in Revenues in 2018
By Margaret Patrick

Aug. 18 2020, Updated 6:40 a.m. ET
Sales projections
TransEnterix (TRXC) expects to sell three Senhance systems in Q3 2018. It plans to sell one in the US and the remaining two in EMEA markets. While the company expects lower capital sales in the third quarter, it expects sales to be stronger in Q4 2018.
Wall Street analysts have projected TransEnterix's fiscal 2018 revenues to be around $24.7 million, which would be a YoY rise of approximately 248%. Peers such as Johnson & Johnson (JNJ), Intuitive Surgical (ISRG), and Stryker (SYK) are expected to report revenues close to $81.2 billion, $3.7 billion, and $13.5 billion, respectively, in fiscal 2018.
Article continues below advertisement
Growth drivers
According to a WinterGreen Research report from June 2017, the global abdominal robotic surgery market was worth $2.9 billion in 2017. This market is expected to reach $15.8 billion in 2023.
According to TransEnterix estimates and Millennium Research Group and Intuitive Surgical estimates, only 0.7 million abdominal robotic surgeries are performed in the US and EU. On the other hand, 4 million open surgical procedures and 6 million laparoscopic procedures are performed in the US and EU.
Historically, the biggest growth driver for robotics was the conversion of open surgeries, since they involved higher costs per procedure and a longer length of stay in hospitals. However, currently, laparoscopic procedures have emerged as a bigger target market for robotics. Digital laparoscopy is expected to provide benefits such as higher precision, efficacy, and safety without a substantial rise in costs as compared to conventional laparoscopy.
Surgeons have been increasingly preferring the differentiating features of the Senhance system such as haptic feedback, the control of three robotic arms, a camera controlled by eye-tracking mechanism, and ergonomic features. These features are also helping reduce pain, fatigue, and discomfort of patients undergoing laparoscopic procedures.