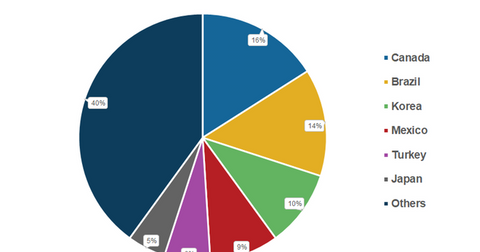 The US-China Trade Talks: Should We Expect Much?
By Anuradha Garg

Updated
US-China trade talks
US and Chinese officials are meeting in Washington, DC, this week to resume trade talks. Expectations from the talks, however, are not high. Even President Donald Trump mentioned that he doesn't expect much progress from the talks. In an interview with Reuters, he said that resolving the trade issues will "take time because China's done too well for too long, and they've become spoiled." He also accused China (MCHI) of manipulating its currency.
Article continues below advertisement
Lukewarm expectations
The talks could be seen as a starting point for future negotiations. Investors should note that these trade talks are taking place as new rounds of tariffs are becoming effective on August 23. The United States is imposing tariffs on $16 billion of imports from China, and China is imposing counter-tariffs in the same amount for imports from the United States.
Previously, Trump threatened to impose duties on all Chinese imports totaling ~$500 billion if China doesn't comply with US demands. In July, the United States announced a new list of tariffs that target Chinese manufacturing exports, including electronics, textiles, auto parts, and metal products. The United States is also pressing China (FXI) to make changes to its economic policy to protect US intellectual property and open its markets for foreign competition.
Impact on financial assets
Several companies (QQQ) have come out in opposition to the proposed tariffs. According to Reuters, Amazon (AMZN), Facebook (FB), and Alphabet (GOOG) said the proposed tariffs "would cause disproportionate economic harm to American internet companies. The list includes products that impact how internet companies function."
While the market is expecting the two sides to find an amicable solution to the trade issues, any success at these middle-level talks is quite unlikely. Even an agreement to continue negotiations would be a success. On the other hand, a complete failure could blow up the trade issues even more. That scenario would be negative for US equities (SPY) (IVV) with exposure to China. And the Fed might be more cautious about interest rates, which could be positive for non-interest-bearing assets, including gold (GLD).