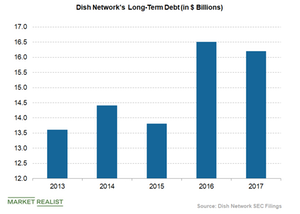 The Upcoming Launch of Dish Network's Wireless Network
By Sophia Nicholson

Aug. 10 2018, Updated 7:31 a.m. ET
Long-term debt trends 
Dish Network's (DISH) debt levels have risen in the last few years due to its increased investments in acquiring spectrum licenses. In 2017, it had a long-term debt obligation of $16.2 billion. As of June 30, it had long-term debt of $15.11 billion compared to $15.13 billion on December 31, 2017.
The company is looking at capital spending of $500 million–$1 billion through 2020 as it seeks to invest in its 5G (fifth-generation) network and support narrowband IoT (Internet of Things). Its peers AT&T (T) and Verizon (VZ) are planning to launch their 5G networks soon. Sprint (S) and T-Mobile (TMUS), after their proposed merger, plan to build a 5G wireless technology for a robust nationwide network.
Article continues below advertisement
Spectrum license
Since 2008, Dish Network has invested $11 billion to acquire certain wireless spectrum licenses. It has also made substantial non-controlling investments in Northstar Entities and SNR Entities related to AWS[1. Advanced Wireless Services]-3 wireless spectrum licenses.
Dish has created an extensive portfolio of spectrum, which is the core component of companies operating a wireless network. In March 2017, it told the FCC (Federal Communications Commission) about its plan to deploy a 5G-capable network focused on supporting narrowband IoT (Internet of Things). The first phase of the deployment is expected to be completed by March 2020, with subsequent stages after that.
However, Dish must use its stockpile of the spectrum before the licenses expire in 2020. It won't be able to begin building its 5G network until 2020 since it needs its specific spectrum to be cleared by the FCC.
Dish Network must provide signal coverage and offer its wireless service to 70% of the population covered by its 700 MHz (megahertz) spectrum by 2020. It also must provide reliable signal coverage and offer wireless service to at least 40% of the population covered by an individual 600 MHz license by June 2023. By June 2029, the company must provide signal coverage to at least 75% of the population.