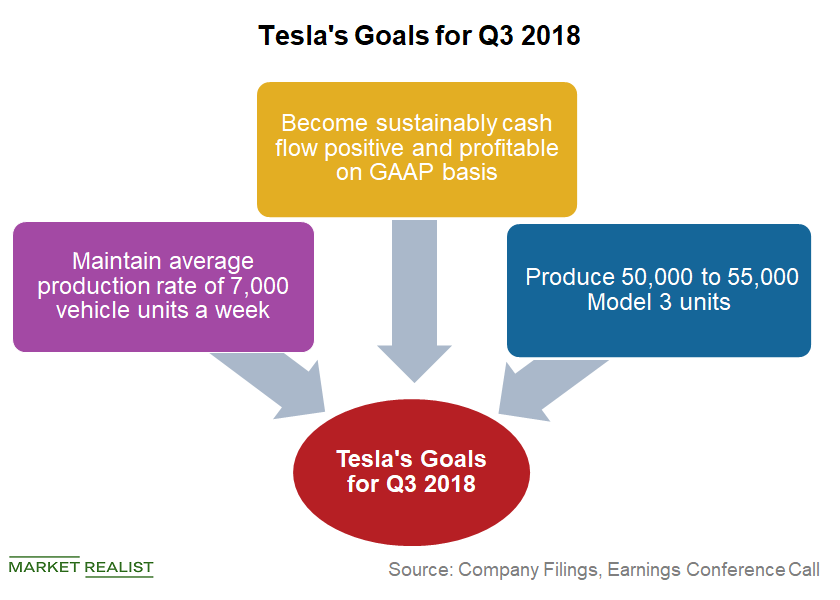 Tesla Aims to Be Profitable in 'Every Quarter Going Forward'
Tesla's gross margin
While Tesla's (TSLA) Automotive segment's second-quarter gross margin slightly expanded sequentially, it was still significantly down on a YoY (year-over-year) basis.
On the positive side, the company's Model 3 gross margin turned slightly positive in the quarter, and the company expects it to expand sharply going forward. Now let's take a look at some highlights of Tesla's second-quarter earnings conference call.
Article continues below advertisement
Expecting profitability
Tesla's CEO, Elon Musk, has mentioned many times that he expects Tesla to be profitable in the second half of 2018. During the company's second-quarter earnings call, he said, "From an operating plant standpoint, from Q3 onwards, I really want to emphasize our goal is to be profitable and cash-flow positive for every quarter, going forward."
Tesla expects to be able to maintain its Model 3 average production rate (XLY) of at least 5,000 units per week in the third quarter. The company is also targeting the production of an average of 2,000 units of the Model S and Model X per week in the third quarter, which should result in an average production rate of 7,000 vehicle units per week in the period.
Musk stated, "At a production rate of 7,000 cars a week, we believe we can be sustainably profitable from Q3 onwards."
Rise in Model 3 production
TSLA plans to raise its Model 3 weekly production rate to 10,000 units. Musk said, "We're going to try to raise that rate of the Model 3 production steadily in the coming quarters and try to get to the 10,000 cars a week number as soon as we can."
Overall, investors' focus will likely remain on Tesla's ability to produce 7,000 vehicle units per week, as it's highly linked to the company's plan to be profitable from the third quarter onward.
Rising commodity prices following President Donald Trump's implementation of tariffs affected the profits of large automakers such as Ford Motor Company (F), General Motors (GM), and Fiat Chrysler Automobiles (FCAU) in the second quarter.
In the next article, we'll discuss the factors that could affect Tesla's valuation multiples in the third quarter.