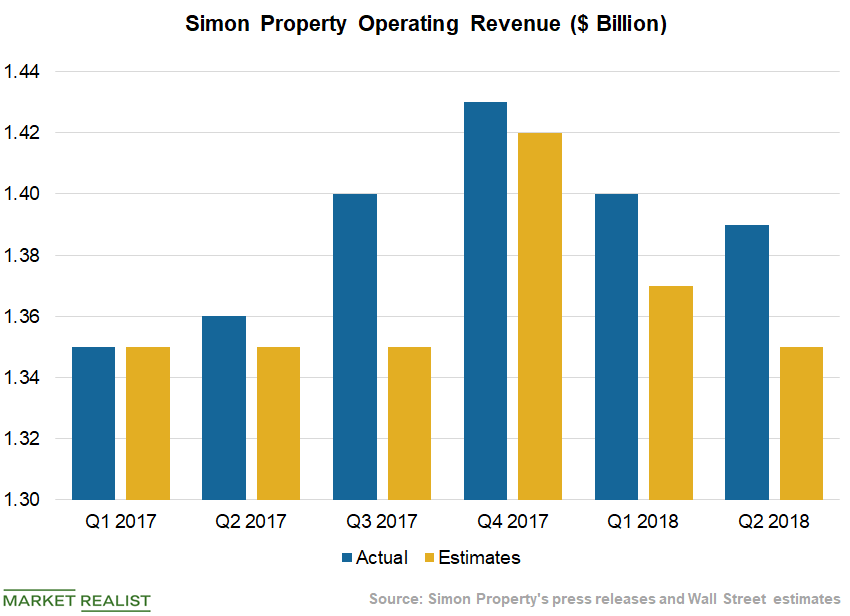 Rental and Leasing Activity Drove Simon Property's Q2 Revenues
By Anirudha Bhagat

Aug. 7 2018, Updated 10:25 a.m. ET
Past performance
Simon Property (SPG) has reported five consecutive quarters of upbeat top-line performances and also seen YoY improvements. The growth in revenues has mainly been driven by increased leasing activities and higher "base minimum rent per square foot."
It seems that the company is benefiting from its diverse tenant base, premium retail assets, and efforts to improve its operating performance through renovation, redevelopment, expansion, and re-tenanting. Furthermore, Simon Property is focusing on transforming its properties by adding more hotels, restaurants, and luxury stores. This move is helping it create value and drive traffic at its malls.
Article continues below advertisement
The initiatives have helped it increase its leasing spread per square foot. An increase in leasing spread suggests that the company is getting higher rent per square foot on a new lease as compared with the previous lease for the same space. In the second quarter of 2018, Simon Property's leasing spread per square foot grew 10.7% YoY to $7.32. Also, the "base minimum rent per square foot" increased to $52.14 as of June 30 from $50.52 as of June 30, 2017.
Sales-boosting initiatives amid retail crisis
Simon Property's occupancy rate at the end of the second quarter of 2018 was 94.7%, down 50 basis points from the tally of 95.2% as of June 30. Notably, retail store operators are encountering declining traffic and sales, as consumers are finding online shopping more convenient and cost-effective. As a result, several retailers have shut their stores, thereby leaving behind many vacant spaces in malls. When large retailers leave a mall, it deprives the mall of its anchor, which translates into massive losses for mall owners like Simon Property, Macerich (MAC), GGP (GGP), and Federal Realty (FRT).
Article continues below advertisement
Therefore, to drive traffic at its mall properties, Simon Property has undertaken omnichannel retailing and portfolio-restructuring initiatives. Also, the company is redeveloping its vacant spaces to lease them out to entertainment zones and food plazas to sustain revenue growth. As of June 30, around 23 redevelopment and expansion projects were in progress across the United States, Europe, Canada, and Asia.
The aforementioned initiatives are likely to continue driving Simon Property's top-line performance. Wall Street anticipates that the company will report revenues of $5.56 billion for full-year 2018, a 1.3% increase from 2017. Simon Property makes up ~8.3% of the iShares Cohen & Steers REIT ETF (ICF).